Latest Local Newscast from WJCT News 89.9
Latest National Newscast from NPR News
NPR News: 12-06-2023 1AM EST
NPR News: 12-06-2023 1AM EST
Dive into the heart of Northeast Florida with
First Coast Connect
. This captivating weekday call-in program brings you face-to-face with the region's movers and shakers, from community leaders and local artists to standout event planners. Engage in vibrant discussions and delve into the week's hottest topics with our exciting Friday Roundtable, featuring a dynamic mix of local media personalities and civic luminaries. Tune in, connect and become part of the community conversation.
Weekdays live at 9 a.m.; Rebroadcast at 8 p.m.
On Wednesday, we'll bring you the compelling narrative of the girl at the heart of a high-profile case of medical imprisonment, featured in the gripping Netflix documentary "Take Care of Maya." Join us as we unravel the harrowing details of her journey and explore the broader implications of her story.
What's Health Got to Do with It? is an engaging weekly talk show hosted by Dr. Joe Sirven, a renowned physician and medical journalist. The show navigates the intricacies of the healthcare system, offering insight into treatment access, insurance coverage, and maintaining good health. Each episode, centered around a specific topic, dives into compelling healthcare stories and explores solutions for healthcare challenges. The program encourages active listener participation, fostering a community that is locally-focused and solution-driven on healthcare issues.

Saturdays at 4 p.m. and Sundays at 9 p.m.
What's Health Got to Do with It?
In this week's health care roundup, our expert panel discusses pressing issues like a sharp rise in syphilis cases, the widening gender gap in life expectancy and the intricacies of COVID-19 vaccination efforts.
What's Health Got to Do with It?
What's Health Got to Do with It?
What's Health Got to Do with It?
Each week, Danny Rivero of WLRN in Miami, along with a panel of journalists from around the state, discuss the week in Florida news on the
Florida Roundup
.
Ways To Connect
This week on The Florida Roundup, we discussed the debate between Gov. Ron DeSantis and California Gov. Gavin Newsom with fact-checking from PolitiFact Florida's Samantha Putterman and then simulcast with LAist daily news show AirTalk to hear what both Floridians and Southern Californians thought about the showdown. And later, we hear some of the major education stories from across the state. Plus, a Florida distillery will bottle a new signature rum from The Rolling Stones.
Immerse yourself in the rhythm of Jacksonville with the Jacksonville Music Experience (JME). Brought to you by WJCT Public Media, JME is your passport to an eclectic musical journey. From unique radio stations to curated playlists, live events, and insider insights - discover, explore and fall in love with Jacksonville's dynamic music scene through JME.
There's a sweet moment between songs when Nora Brown and Stephanie Coleman reminisce about their love for traditional banjo and fiddle tunes. Speaking about the "The Old Blue Bonnet," banjo picker Nora Brown says she first heard the song when she was about 10 or 11. That puts a grin on fiddler Stephanie Coleman's face, as she chimes in to ...

The first single from his forthcoming album Philanthropy, the six-minute "Nature" from Hauschka is a prime nominee for the gallery space playlist. The alter-ego of Academy Award and BAFTA-winning German composer-pianist Volker Bertelmann, Hauschka is adroit at blending arch-conceptual experimentalism and pop-ambient soundtrack work. His elegiac score for last year's antiwar epic film All Quiet on the Western Front snagged him ...

Jordan Ward showed up to NPR headquarters radiating with a warm energy that felt familiar, like linking up with your favorite cousins at the cookout. After all, the immense amount of creativity and synergy displayed by Ward and his bandmates during this Tiny Desk performance is indicative of pure fellowship. The St. Louis-bred singer-songwriter started his professional career as a ...

Purveyor of certi-fried guitar pop Kurt Vile has announced Back to Moon Beach, a new collection, which — featuring an hour-plus worth of music — stretches the agreed-upon definition of EP. It's Vile's first new music since 2022's watch my moves. Last week the Philadelphia-bred musician shared "Another good year for the roses," a catchy, arpeggiated-piano-driven number that features both ...

In late May, Jacksonville-based act Chalooby dropped Bloom FM, an 11-track offering of dream pop that serves as a worthy and divergent follow up to 2022's hazy long player, lofi love. Chalooby is the brainchild of local singer-songwriter Micah George. While he offers that the sound was inspired by everything from '60s surf rock to '80s synth pop — or ...

Too electrified to be fully twee, too melodious for mere jagged guitar-rock, Australian alt-rockers Middle Kids work the middle path and serve up an above-par crackler with their latest single, "Dramamine." A heads-up from their forthcoming third album, Faith Crisis Pt 1, the three-minute upbeat "Dramamine" fires up with an Afropop-leaning guitar figure but then takes a nice bite out ...

While a broken heart isn't required for romance, it seems like something has to give. Cindy Lee, the creative alter-ego of Patrick Flegel, is a bridge between the reverb-rich music of '60s girl groups and the guitar freefall of indie rock. Following the 2012 dissolution of Flegel's former Canadian band Women, Flegel began releasing music as their drag queen persona: ...

Our weekly Go concert recommendations are updated every Monday morning. For a comprehensive list of this week's concerts, go to our live music calendar page. R&B/Pop Billy Ocean – Wednesday, October 25 Thrasher Horne Center | Orange Park The international pop sensation Billy Ocean is 73-years young and still going strong. He'll bring his radio smashes, including "Caribbean Queen" and "Get Outta My Dreams, ...

Local indie-rock act Bad Madonna have shared their first new material as a four-piece, the spiky anti-judgment anthem "Vicious Party Girl," ahead of a single release show on October 20, at The Block Skate Supply in Springfield, with an accompanying music video due out Friday, October 27. On "Vicious Party Girl," singer-songwriter Alexis Rhode, guitarist Dylan Young and bassist Storm ...

U.K. singer-songwriter Sampha has become a go-to guest vocalist for artists such as Kendrick Lamar, Drake, Alicia Keys, Frank Ocean, Solange and Stormzy. Naturally, he's got a distinctive, genre-blending style as a solo artist, too: Sampha's second full-length album, LAHAI, showcases his vulnerability, growth and gorgeous vocals, which can sound both timelessly familiar and futuristic, often simultaneously. We've also got ...
Reporters from public radio stations across the state bring you timely news and information from around Florida. Whether it's legislative maneuvers, the economy, environmental issues, tourism, business, or the arts, Capital Report provides information on issues that affect the lives of everyday Floridians.You can also subscribe to Capital Report as a podcast on Apple, Spotify, and Google.
On tonight's program: Tis' the season, and there's some good news for holiday shoppers who are watching their overall spending; Serious misconduct allegations are swirling around Florida's Republican Party Chair and his wife who sits on the Sarasota County School Board; The controversy over transgender student athletes roils a school in Fort Lauderdale; A Holocaust survivor recalls his family's narrow escape from what would likely have been their doom; We'll visit a gallery devoted to Florida's natural habitats and wildlife; And speaking of wildlife, have you checked out the monkeys in Gainesville?

On tonight's program: Mobile homes are among the last affordable housing options in Florida. IF you don't get evicted; It's no surprise that property insurance rates are going up for many Florida homeowners. But it seems that isn't the only problem, even for those who have policies with the so-called "insurer of last resort"; New state government restrictions on the collection of teachers' union dues is having a significant impact on the state's largest teachers' union and its membership; Music fans have their "Lollapalooza." So why shouldn't the retail ravenous have their own "Shopapalooza?"; Holiday shoppers beware! Not all bargain buys are for real and we have some helpful hints to help you avoid getting scammed; And the State of Florida inducts its latest members of the Veterans Hall of Fame.

On tonight's program: In the wake of Veterans Day, a proposed bill to provide more care and comfort for vets in nursing home facilities; A plan to expand Florida's Telehealth program may be just what the doctor ordered for many expectant moms; There's yet another remarkable twist in a Florida murder case that was already a hot mess to begin with; As frightening as a new novel about Florida's infamous Dozier School for Boys is, even the author says it can't come close to how horrible the reality was; And Florida's first syringe exchange program, widely criticized when it began 7 years ago, seems to be working better than anyone expected.

On tonight's program: A special lawmaking session expands Florida's school voucher program, although there are still unanswered questions; Vouchers weren't the only items up for debate during this week's special session at the Florida Capitol; Lawmakers also extended more help to Hurricane Idalia victims and banned state investment in countries like Iran; A university-level sociology course containing references to sexuality, gender identity, race and ethnicity appears to be on the chopping block in Florida; Republican presidential hopefuls had another debate this week. Although some were wondering why; It seems art and culture is a bigger business in Florida than most people realize; Even though state government keeps pre-empting more and more local authority, communities like Punta Gorda are still trying to regulate such things as short term rental properties; And there's a move afoot to expand the honors accorded Florida's military veterans.

On tonight's program: Florida lawmakers return to Tallahassee next week: on their to-do list: more sanctions for Iran; How do Americans feel about the latest Israel-Hamas war?; A recent survey says, it's complicated…; And an advocacy group for undocumented young people gets a new leader; It was a record nesting season for one of Florida's favorite creatures: the sea turtle; But it was a dangerous time for pedestrians in the state; And fighting fetal and infant mortality requires having a better understanding of the communities that are impacted.

On tonight's program: Despite the legislature's past efforts, property insurance rates in Florida are not dropping. Now lawmakers are planning to give it another go in a special session and maybe beyond; There's a bit of good news about the state of Northwest Florida's world-famous oyster beds; The controversy over what books can and can't be included in public school libraries rages on; Florida approves new public school learning materials from a source that seems to have a very specific religious viewpoint; New state rules also seem to be putting a crimp on what can and can't be said on public college and university campuses in Florida; And we hear the story of "Surf Skate Science" — and what some see as an educational renaissance in Florida.
Florida Frontiers: The Weekly Radio Magazine of the Florida Historical Society is a combination of interview segments and produced features covering history-based events, exhibitions, activities, places and people in Florida. Join host Ben Brotemarkle as he explores the relevance of Florida history to contemporary society, and promotes awareness of heritage and culture tourism options in the state.
SEGMENTS | Thomas Edison in Fort Myers | Father Theodore Gibson and the Miami NAACP | Clearwater Lawn Bowling Club

SEGMENTS | Journalist Mabel Norris Reese | The Lynching of Claude Neal | Advice Columnist Dorothy Ricker

SEGMENTS | Dispatches from Beluthahatchee | Hastings Public Library | Blacksmith John Pfund

SEGMENTS | Ax Handle Saturday | Diplomat Bert Fish | Patsy West and the Seminole

SEGMENTS | Florida Ties to the First Black Regiment in the Civil War | The Town of Fellsmere in Indian River County | An Early Automotive Road Trip

SEGMENTS | Artist Chad Light on A.I. | Historic Post Offices | Florida State Folklorist Dom Tartaglia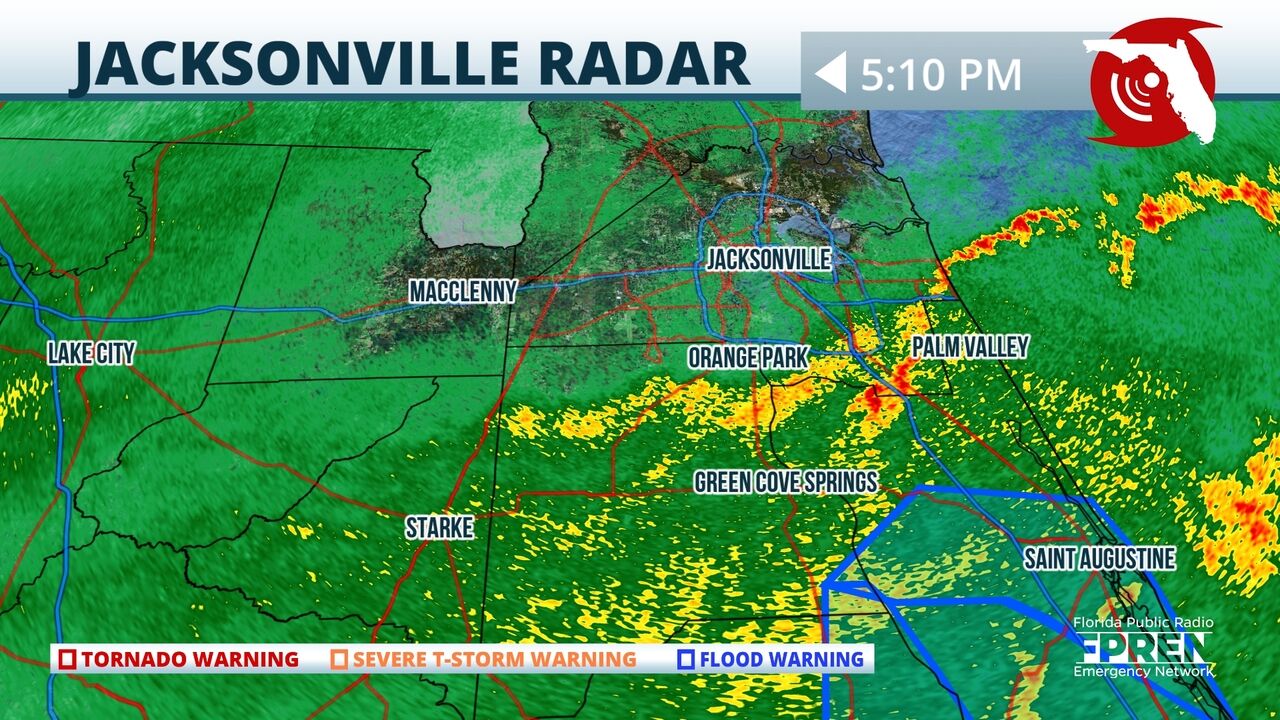 Discover Jacksonville like never before with
Jacksonville Today
, a nonprofit local digital journalism service from WJCT Public Media. With a daily five-minute read, stay updated on the city's top news, events, and engaging opinion pieces. Beyond news, it's your doorway to actively participate in the community. Get ready to experience Jacksonville, one email at a time.
NPR News is your go-to destination for reliable national news, delivering comprehensive reporting, thoughtful analysis, and engaging storytelling. With a commitment to accuracy and balanced coverage, NPR News keeps you informed about the latest national happenings, offering insights and perspectives that go beyond surface-level news.
With the nation's debt at more than $33 trillion, there's a new push in Congress for a bipartisan debt commission to come up with reforms for mandatory spending and the tax system.

With four Republican candidates planning to debate at the University of Alabama on Wednesday evening, presidential hopefuls try to stand out in the countdown to the Iowa Caucus.

Three university presidents defended their responses to rising antisemitism in a House committee hearing Tuesday. Many have faced scrutiny as they struggle to balance free speech with student safety.

NPR's Mary Louise Kelly talks with former CIA official Robert Baer about the case of Manuel Rocha, a longtime U.S. diplomat charged with being a spy for Cuba.

House Speaker Mike Johnson is set to keynote an event for lawmakers who promote conservative Christian dominance — the latest connection illustrating his close relationship with Christian extremists.

Middle school is often a challenging time for students. One Massachusetts school trying to put its credo into every day action: Let go and move on. Students and teachers alike say it's helping.
Every weekday for over three decades, NPR's Morning Edition has taken listeners around the country and the world with two hours of multi-faceted stories and commentaries that inform challenge and occasionally amuse. Morning Edition is the most listened-to news radio program in the country.

Weekdays 5:00 a.m. to 9 a.m.
Should you stress about getting eight hours of sleep a night? Nope! Some experts say skip the worry and focus on keeping a consistent sleep schedule instead.

Victor Manuel Rocha, a longtime U.S. diplomat who served as ambassador to Bolivia, has been arrested and charged with being a clandestine agent for the Cuban government. How was he finally caught?

King Charles commissioned fashion students to repurpose old curtains from Buckingham Palace and Windsor Castle. Curtains, some from the 50s, are now jackets and kimonos that look new.

Lee recorded the song in 1958 when she was 13 — it topped Billboard's Hot 100 for the first time thanks to a new video starring Lee that was produced to coincide with the song's 65th anniversary.

Dublin artist Chris Judge has been drawing faces on pictures of clouds since the early days of the pandemic. He named the project "A Daily Cloud."

NPR's Leila Fadel talks to Zlatina Kostova, a clinical psychologist at the University of Massachusetts, about the trauma children experience when living through war.
In-depth reporting has transformed the way listeners understand current events and view the world. Every weekday, hear two hours of breaking news mixed with compelling analysis, insightful commentaries, interviews, and special - sometimes quirky - features.
Weekdays 4:00 p.m. to 6 p.m.
The first results are in from a charity experiment in Kenya. Those who got a lump sum of money were far more likely to start a business — and earn more — compared to those who got monthly payments.

Alabama GOP leaders hope Wednesday's Republican presidential debate gives viewers a broader image of their state beyond the recent headlines about Sen. Tuberville's hold on some military nominations.

NPR's Ari Shapiro talks with author Samantha Harvey about her new book Orbital, which examines the fascinating mundane-ness of outer space from the perspective of an international space station.

Their eventual decision in the case could severely limit congressional options in enacting tax policy, and it could cost the federal government trillions of dollars in corporate taxes.

A decade after the death of Nelson Mandela, many South Africans are asking what the anti-apartheid icon would have thought of the current state of the country and the direction it's heading in.

NPR's It's Been a Minute reviews megastar Beyoncé Knowles-Carter's film Renaissance: A Film by Beyoncé.
Marketplace, hosted by the charismatic Kai Ryssdal and produced by American Public Media (APM), is an influential and informative radio program that delivers a fresh perspective on the economy, business, and finance.
Despite all the angst over the national debt limit, extensions and last-minute compromises aren't unusual — since 1960, Congress has fought over the debt ceiling 78 times. Although the U.S. has never defaulted, there have been consequences. In this episode, why debt ceiling battles haunt the nation's credit rating. Plus, the financial strain on regional theaters across the country, as told by Danny Feldman, head of the Pasadena Playhouse.

Seventeen percent of Spotify employees were laid off today in the company's third round of layoffs this year. CEO Daniel Ek says a major reason for staff cuts is that capital has "become more expensive." But how can money suddenly cost more? In this episode, why companies that grew by borrowing a bunch are scaling back in a high-interest-rate environment. Plus, gold isn't the stable investment some think it is, 3D-printed houses could aid the affordable housing crisis and going splitsies on dinner is now en vogue.

Over half of major retailers now have a "return-less" refund policy — aka, they'll pay you to keep not-quite-right items — according to a goTRG report. Returns cost retailers a lot, so why take stuff back? In this episode, big-box stores are adopting this practice (but not necessarily advertising it). Plus, the "endless shrimp" offer tanks Red Lobster profit, farmers try to monetize carbon-trapping agricultural methods and the manufacturing sector shrinks.

People in cities have, on average, made more money than people in rural parts of America for decades. Now, that disparity seems to be widening. In 2023, urban dwellers are making 23% more than rural ones, compared to 20% more before the pandemic. In this episode, why inflation, telework and higher education all play into the urban-rural wage gap. Plus, more older Americans are still paying off their mortgages, ESG investing goes under the microscope and global markets don't quite believe OPEC+.

The United Nations' climate change conference kicks off tomorrow in Dubai, United Arab Emirates, where tens of thousands of global leaders, experts and activists will discuss how to reduce greenhouse gas emissions. However, the host country's main export is fossil fuels and the host of the event is CEO of the Abu Dhabi National Oil Co. In this episode, could conflicting interests stall progress in the transition to renewable energy? Plus, hybrid and electric vehicle sales ramped up while overall consumer spending slowed down in Q3.