Latest Local Newscast from WJCT News 89.9
Latest National Newscast from NPR News
NPR News: 10-01-2023 11AM EDT
NPR News: 10-01-2023 11AM EDT
Dive into the heart of Northeast Florida with
First Coast Connect
. This captivating weekday call-in program brings you face-to-face with the region's movers and shakers, from community leaders and local artists to standout event planners. Engage in vibrant discussions and delve into the week's hottest topics with our exciting Friday Roundtable, featuring a dynamic mix of local media personalities and civic luminaries. Tune in, connect and become part of the community conversation.
Weekdays live at 9 a.m.; Rebroadcast at 8 p.m.
Our media roundtable discusses rising crime, including the slayings of two children, plus approval of Jacksonville's budget and the possibility of higher rates at JEA.
What's Health Got to Do with It? is an engaging weekly talk show hosted by Dr. Joe Sirven, a renowned physician and medical journalist. The show navigates the intricacies of the healthcare system, offering insight into treatment access, insurance coverage, and maintaining good health. Each episode, centered around a specific topic, dives into compelling healthcare stories and explores solutions for healthcare challenges. The program encourages active listener participation, fostering a community that is locally-focused and solution-driven on healthcare issues.

Saturdays at 4 p.m. and Sundays at 9 p.m.
What's Health Got to Do with It?
A new COVID-19 booster has been approved, and the federal government is resuming the shipment of COVID-19 rapid tests to all Americans.
What's Health Got to Do with It?
What's Health Got to Do with It?
What's Health Got to Do with It?
Each week, Danny Rivero of WLRN in Miami, along with a panel of journalists from around the state, discuss the week in Florida news on the
Florida Roundup
.
Ways To Connect
This week on The Florida Roundup, we take a look back at Hurricane Ian one year later with reporting from Florida Public Radio member stations. Plus, we look at the state's minimum wage increase with FIU's Dr. Maria Ilcheva and then WUSF's Gabriella Paul. And later, fact-checking Florida claims in the latest GOP debate with PolitiFact's Samantha Putterman.
Immerse yourself in the rhythm of Jacksonville with the Jacksonville Music Experience (JME). Brought to you by WJCT Public Media, JME is your passport to an eclectic musical journey. From unique radio stations to curated playlists, live events, and insider insights - discover, explore and fall in love with Jacksonville's dynamic music scene through JME.
It's been five years since singer Jorja Smith released her beloved and acclaimed debut album, Lost & Found. She returns this week with a long-awaited followup, Falling or Flying, a wide-reaching album of solitude and quiet confidence, as Smith explores new rhythms in both her music and life. We open this week's show with a listen and talk about the ...

This Latinx Heritage Month, NPR Music member stations are celebrating the music of a wide array of artists from all corners of Latinidad. Salsa was not originally a genre, per se. Instead, it was a word used to describe when things got hot and saucy during a performance. The music is a collection of various Afro-Cuban and Caribbean rhythms, and ...

Ty Segall continues to morph and mop up the competition of current psych-rock-what-have-you. "Eggman" arrives on the heels of his recent doom-dirge single, "Void." Over a rumbling bed of drums, octaved-electric guitar and strumming acoustic, Segall serves up cryptic lyrics ("Hey / do you hear what I say? / Would you look at your face? Your mouth's / agape and ...

With autumn upon us, we decided it was time to poll NPR Music's Member station partners to find out the new musicians who caught their hosts' ears this year. We had one question: Identify your favorite artist who entered 2023 without a full-length album. We received 13 answers, and the results spanned rock, Americana, soul, jazz and electronic music. Enjoy ...

Led by singer-songwriter Justin Osborne, the Charleston-bred indie-Americana band Susto visited Jacksonville in early 2023, performing at the Bier Hall inside Intuition Ale Works. The band broke out with the 2021's Time in the Sun, which combined Osborne's introspective songwriting with an energetic live-band feel. And with 2023's My Entire Life — another suite of songs grounded in American roots, ...

In the opening minutes of DJ Shadow's 1996 debut album Endtroducing…, he samples the words of jazz drummer George Marsh: "I'm a student of the drums. And I'm also a teacher of the drums, too." The veteran beatmaker's next lesson is on its way, in the form of his new album Action Adventure (Oct. 27, Mass Appeal/Liquid Amber), but Friday's ...

Our weekly Go concert recommendations are updated every Monday morning and are always available on jaxmusic.org. For a comprehensive list of this week's concerts, go to our live music calendar page. Jazz Blue Jay Jazz Jam – Tuesday, September 26 Blue Jay Listening Room | Jacksonville Beach Every Tuesday, fun-size Jax Beach venue Blue Jay Listening Room hosts one of the city's premier jazz ...

Little Brother, the beloved North Carolina hip-hop duo, have released "Wish Me Well" and "Glory Glory," their first new music in four years. Phonte and Rapper Big Pooh remain the poster boys of grown-man rap. Seasoned, independent, well-respected; their rhymes serve as references for artists looking to follow suit. "Wish Me Well" finds Phonte and Rapper Big Pooh taking turns ...

The music of Singaporean artist and producer yeule often sounds like it was made from turn-of-the-century home electronics — dial up modems, simple keypad tones or a broken VCR. But, in deceptively disarming moments, it's also warm and beautifully organic, just before erupting in thunderous sheets of guitar noise and primal screaming. As we discuss on this week's show, their ...

When it comes to the confused emotions of '90s underground rock as it rose (or was pulled) up into the mainstream, never mind Nirvana: it was arguably The Breeders that truly expressed the confusion, joy, snark, resignation and expectations of a pre-internet Generation X. Thirty years have passed since The Breeders' breakthrough release, Last Splash, and the album's sound and ...
Reporters from public radio stations across the state bring you timely news and information from around Florida. Whether it's legislative maneuvers, the economy, environmental issues, tourism, business, or the arts, Capital Report provides information on issues that affect the lives of everyday Floridians.You can also subscribe to Capital Report as a podcast on Apple, Spotify, and Google.
On tonight's program: Voting rights advocates say they're feeling cautiously hopeful after a court hearing on Florida's congressional district maps. Opponents say the current maps violate the state constitution; Advocates want the state to take a break on removing people from its Medicaid rolls as thousands of recipients are losing health coverage because of confusion, not because they don't qualify; New rules are now in place for how parents can challenge books in classrooms and school libraries; After lawmakers passed a slate of laws this session that target the LGBTQ+ community, some families are leaving the state; Florida's new immigration law is putting added stress on students with undocumented family members; Officials say Florida hurricanes are getting wetter and are leading to greater concerns about the impact mold exposure can have on health; And Florida's controlled burn program helps prevent wildfires like the deadly fire that devastated Hawaii earlier this month.

On tonight's program: Florida public schools have staff shortages. But what that number is depends on who you ask; Could a lost Florida congressional district make a reappearance before next year's election?; College life is stressful. So more schools are putting resources in place to help troubled students cope and succeed; How do you tell the world about the outstanding academics at Florida's colleges and universities?; Florida's July unemployment rate is up just slightly from June; And inflation isn't only for consumer goods. The cost of money is going up, too.

On tonight's program: As the kids head back to Florida's classrooms, it seems there are a lot fewer teachers to welcome them; Some college and university student groups may have to change their names because of Florida's new rules against diversity, equity and inclusion; Women are struggling to access healthcare during and after pregnancy; Florida has a new requirement that hospitals check the citizenship status of patients. Supporters say it will reduce the burden on taxpayers for treating undocumented persons; A new hi-tech way to carjack is catching on in Florida; Governor DeSantis suspends another state attorney; And conditions are becoming unbearable inside Florida prisons that lack air conditioning.

On tonight's program: Florida has always been about real estate. Except now, there's a restriction on property sales to people from one specific country; Pushback against Florida's new African-American History guidelines is coming from teachers, some state lawmakers and even from the vice president of the United States; Florida's campaign against environment, social and governance when it comes to consumer products and investing may not be working out as intended by state policy makers; Super-heated sea water is bleaching the coral formations offshore of the Florida Keys; A proposed gas station atop Wakulla County's delicate underground spring system is drawing fierce opposition; Most folks think of algae blooms as a bad thing. But it appears they may also be very useful in certain situations; And we get a preview of a new book about the Sunshine State.

On tonight's program: You may have heard about a proposed constitutional amendment to protect abortion access, but there's also a proposal that would ban abortion in most cases; Pushback regarding Florida's new African American History standards hits a new crescendo; Faced with dwindling numbers, Florida Democrats are stepping up their efforts to stay politically relevant; It seems not every energy source claiming to be sustainable truly is; New immigration laws in Florida are persuading a growing number of immigrants to leave the state; And three-quarters of a century ago, the United States did away with segregation in the nation's armed forces and civilian federal workforce.

On tonight's program: Florida's new immigration law is being considered in federal court; Anti-discrimination advocates are pushing back against a new state law that bans many Chinese people from buying property in Florida...; A Florida researcher talks about what she found when she looked into the impact of fossil fuel energy companies on Florida utility policy; Soaring temperatures are proving deadly to children left in parked cars; We have an update on how new Florida laws are impacting the state's convention and meeting trade; A Sarasota attorney is the newly-elected president of the Florida Bar; And we go angling for a fish that hasn't exactly been the most popular among those who fish for sport.
Florida Frontiers: The Weekly Radio Magazine of the Florida Historical Society is a combination of interview segments and produced features covering history-based events, exhibitions, activities, places and people in Florida. Join host Ben Brotemarkle as he explores the relevance of Florida history to contemporary society, and promotes awareness of heritage and culture tourism options in the state.
SEGMENTS | Thomas Edison in Fort Myers | Father Theodore Gibson and the Miami NAACP | Clearwater Lawn Bowling Club

SEGMENTS | Journalist Mabel Norris Reese | The Lynching of Claude Neal | Advice Columnist Dorothy Ricker

SEGMENTS | Dispatches from Beluthahatchee | Hastings Public Library | Blacksmith John Pfund

SEGMENTS | Ax Handle Saturday | Diplomat Bert Fish | Patsy West and the Seminole

SEGMENTS | Florida Ties to the First Black Regiment in the Civil War | The Town of Fellsmere in Indian River County | An Early Automotive Road Trip

SEGMENTS | Artist Chad Light on A.I. | Historic Post Offices | Florida State Folklorist Dom Tartaglia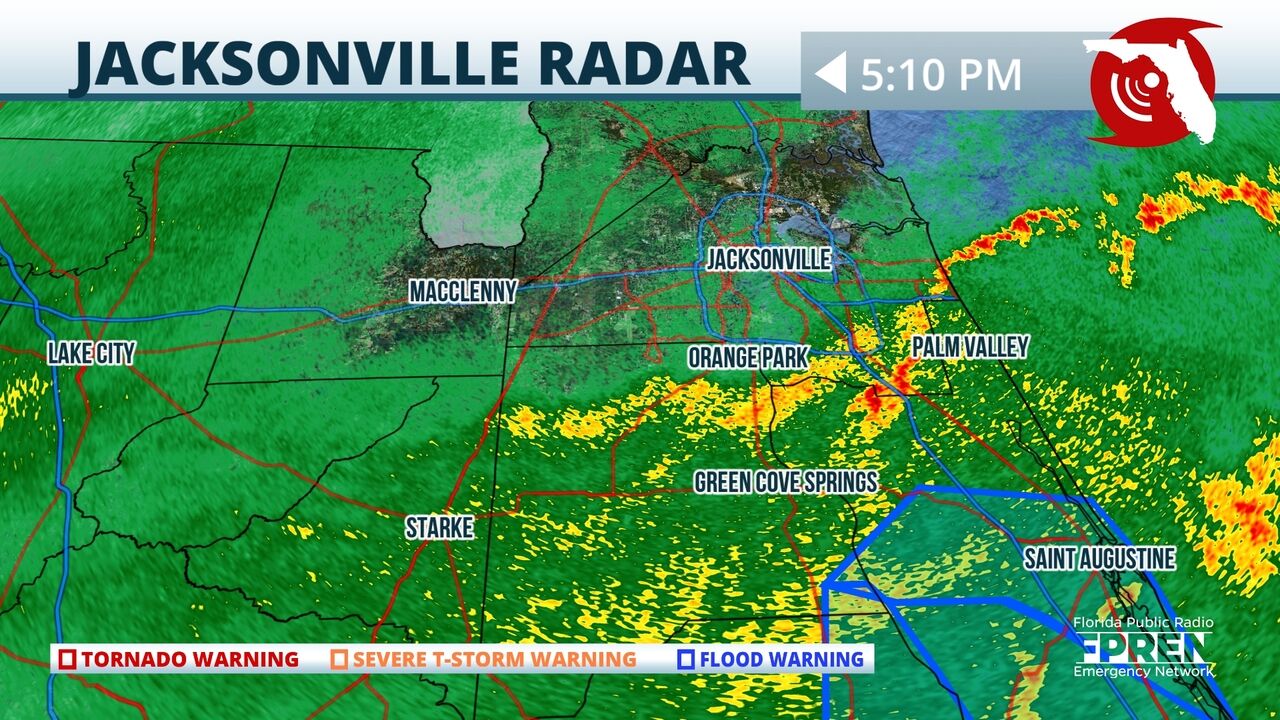 Discover Jacksonville like never before with
Jacksonville Today
, a nonprofit local digital journalism service from WJCT Public Media. With a daily five-minute read, stay updated on the city's top news, events, and engaging opinion pieces. Beyond news, it's your doorway to actively participate in the community. Get ready to experience Jacksonville, one email at a time.
NPR News is your go-to destination for reliable national news, delivering comprehensive reporting, thoughtful analysis, and engaging storytelling. With a commitment to accuracy and balanced coverage, NPR News keeps you informed about the latest national happenings, offering insights and perspectives that go beyond surface-level news.
The New York Democrat says the mistake occurred as he was rushing to get to a vote, but Republicans have suggested Bowman was trying to delay the proceedings.

The new law, signed by Democratic Gov. Ned Lamont in June, bans the open carrying of firearms and prohibits the sale of more than three handguns within 30 days to any one person, with some exceptions.

Former President Jimmy Carter turns 99 today. There were celebrations yesterday at the Carter Presidential Library and Museum in Atlanta, Georgia.

The United Auto Workers union strike enters its third week, but the history of their fight goes back to the 1930s.

Montana inmates with severe mental illness can languish for months in jail. They are too ill to stand trial, and there's only one state hospital that can treat them.

Rob Delaney found out his youngest son Henry had brain cancer. This is a story about the saddest of places life can take you, but it's also about the biggest of loves and how to scrape up bits of joy.
Every weekday for over three decades, NPR's Morning Edition has taken listeners around the country and the world with two hours of multi-faceted stories and commentaries that inform challenge and occasionally amuse. Morning Edition is the most listened-to news radio program in the country.

Weekdays 5:00 a.m. to 9 a.m.
The California Democratic Senator has died at 90 years old. She was the longest-serving female senator in U.S. history and had planned to retire at the end of her term.

Feinstein suddenly became the mayor of San Francisco when two other officials were assassinated. Later she was elected to the U.S. Senate after male senators grilled Anita Hill in public hearings.

History casts a long shadow over workers on strike at the UAW. For a third-generation autoworker, the unions demands from automakers feels personal.

The last time the government shut down, members of the U.S. Coast Guard lined up at food pantries — while they worked without being paid. The previous government shutdown last 35 days.

The fan's support animal was not a service dog, and the Phillies have a rule about that. The fan's support animal happened to be 5' long alligator named Wally.

Nearly 60 years after the release of the film The Sound of Music, Craft Records has announced a new edition of its soundtrack. The album will feature 11 unreleased takes from the original cast.
In-depth reporting has transformed the way listeners understand current events and view the world. Every weekday, hear two hours of breaking news mixed with compelling analysis, insightful commentaries, interviews, and special - sometimes quirky - features.
Weekdays 4:00 p.m. to 6 p.m.
Lawmakers are working to approve a stopgap spending bill before a midnight deadline to fund the government.

NPR's David Gura talks to Maryland Sen. Chris Van Hollen about the passage of a short-term spending bill in the House of Representatives.

Scott Detrow speaks with Mortal Kombat co-creator Ed Boon about the enduring popularity of the fighting game franchise.

Three weeks after a storm and floods devastated the Libyan city of Derna residents and aid groups still struggle to address the needs for survivors and the loss of thousands of lives.

For decades, New York City has piled its trash in heaps of bags on city sidewalks. Now, the city is rolling out trash bins and requiring businesses to start using them.

The number of Americans who identify with being mixed-race is on the rise. Embodied, a podcast from North Carolina Public Radio, looks at the complications of that identity.
Marketplace, hosted by the charismatic Kai Ryssdal and produced by American Public Media (APM), is an influential and informative radio program that delivers a fresh perspective on the economy, business, and finance.
How much should a sandwich cost? How about a fast food drink? A gallon of gas? Turns out, behavioral economics shapes how much we think something should cost and explains why it's hard to adjust those prices for inflation. We also dissect Fed Chair Jerome Powell's Jackson Hole Symposium speech and hear why squashing the last bit of inflation is so tricky.

Nearly every business had to pivot during the pandemic. But domestic manufacturing has been weak for a while now. On today's show, we hear how businesses in the sector are looking to pivot yet again. Plus: the challenges faced by schools as pandemic funding ends, and the risks around chipmaker Nvidia's dominance of a very concentrated market. Later: Wordle, but make it global trade.

The theme of this year's Federal Reserve symposium in Jackson Hole, Wyoming, is "Structural Shifts in the Global Economy." Today, we ask a handful of economists who aren't sitting around the campfire with Jay Powell to weigh in. Then: Just half of CEOs see climate change as a threat to their business. And later: Could teaching more women poker narrow the boardroom gender gap?

Inflation is cooling and real wages are improving, which is good news. But after losing ground to rising prices for so long, low-income households are struggling to catch up financially, leaving them vulnerable to an economic slowdown. Plus, the U.S. dollar weakens as other countries hike interest rates, and the real estate refrain "you can always refinance" stages a comeback.

Wall Street is zooming in on Nvidia, which reports quarterly earnings this week. The chipmaker's components power many of the generative artificial intelligence models that have surged in popularity, and its financial results will provide clues about the strength of the industry that runs on its technology. Also on the show: diminishing appetite for U.S. bonds, life in a fire lookout tower and vanishing tattoo ink.