Latest Local Newscast from WJCT News 89.9
Latest National Newscast from NPR News
NPR News: 11-28-2023 10PM EST
NPR News: 11-28-2023 10PM EST
Dive into the heart of Northeast Florida with
First Coast Connect
. This captivating weekday call-in program brings you face-to-face with the region's movers and shakers, from community leaders and local artists to standout event planners. Engage in vibrant discussions and delve into the week's hottest topics with our exciting Friday Roundtable, featuring a dynamic mix of local media personalities and civic luminaries. Tune in, connect and become part of the community conversation.
Weekdays live at 9 a.m.; Rebroadcast at 8 p.m.
Join us as Florida Times Union columnist Nate Monroe updates us on the criminal case of JEA executives Aaron Zahn and Ryan Wannemacher. Then, we talk with Nick Allard about the new home for Jacksonville's only law school.
What's Health Got to Do with It? is an engaging weekly talk show hosted by Dr. Joe Sirven, a renowned physician and medical journalist. The show navigates the intricacies of the healthcare system, offering insight into treatment access, insurance coverage, and maintaining good health. Each episode, centered around a specific topic, dives into compelling healthcare stories and explores solutions for healthcare challenges. The program encourages active listener participation, fostering a community that is locally-focused and solution-driven on healthcare issues.

Saturdays at 4 p.m. and Sundays at 9 p.m.
What's Health Got to Do with It?
We are honored to have Stephen Ferrara, president of the American Association of Nurse Practitioners, and Kelly Rojas, a doctor of nursing practice student, guiding us through the pivotal role of nurse practitioners in the post-COVID health care landscape. Then, as we approach the holiday season, stay tuned for some mindful tips to navigate the festivities with licensed clinical social worker Lindsey Bennett.
What's Health Got to Do with It?
What's Health Got to Do with It?
What's Health Got to Do with It?
Each week, Danny Rivero of WLRN in Miami, along with a panel of journalists from around the state, discuss the week in Florida news on the
Florida Roundup
.
Ways To Connect
On the Florida Roundup, we look at the impact of President Biden's humanitarian parole for migrants, one year later. Throughout the hour, we explore the WLRN News' series "Waiting for America" with some of the reporters who contributed to it.
Immerse yourself in the rhythm of Jacksonville with the Jacksonville Music Experience (JME). Brought to you by WJCT Public Media, JME is your passport to an eclectic musical journey. From unique radio stations to curated playlists, live events, and insider insights - discover, explore and fall in love with Jacksonville's dynamic music scene through JME.
There's a sweet moment between songs when Nora Brown and Stephanie Coleman reminisce about their love for traditional banjo and fiddle tunes. Speaking about the "The Old Blue Bonnet," banjo picker Nora Brown says she first heard the song when she was about 10 or 11. That puts a grin on fiddler Stephanie Coleman's face, as she chimes in to ...

The first single from his forthcoming album Philanthropy, the six-minute "Nature" from Hauschka is a prime nominee for the gallery space playlist. The alter-ego of Academy Award and BAFTA-winning German composer-pianist Volker Bertelmann, Hauschka is adroit at blending arch-conceptual experimentalism and pop-ambient soundtrack work. His elegiac score for last year's antiwar epic film All Quiet on the Western Front snagged him ...

Jordan Ward showed up to NPR headquarters radiating with a warm energy that felt familiar, like linking up with your favorite cousins at the cookout. After all, the immense amount of creativity and synergy displayed by Ward and his bandmates during this Tiny Desk performance is indicative of pure fellowship. The St. Louis-bred singer-songwriter started his professional career as a ...

Purveyor of certi-fried guitar pop Kurt Vile has announced Back to Moon Beach, a new collection, which — featuring an hour-plus worth of music — stretches the agreed-upon definition of EP. It's Vile's first new music since 2022's watch my moves. Last week the Philadelphia-bred musician shared "Another good year for the roses," a catchy, arpeggiated-piano-driven number that features both ...

In late May, Jacksonville-based act Chalooby dropped Bloom FM, an 11-track offering of dream pop that serves as a worthy and divergent follow up to 2022's hazy long player, lofi love. Chalooby is the brainchild of local singer-songwriter Micah George. While he offers that the sound was inspired by everything from '60s surf rock to '80s synth pop — or ...

Too electrified to be fully twee, too melodious for mere jagged guitar-rock, Australian alt-rockers Middle Kids work the middle path and serve up an above-par crackler with their latest single, "Dramamine." A heads-up from their forthcoming third album, Faith Crisis Pt 1, the three-minute upbeat "Dramamine" fires up with an Afropop-leaning guitar figure but then takes a nice bite out ...

While a broken heart isn't required for romance, it seems like something has to give. Cindy Lee, the creative alter-ego of Patrick Flegel, is a bridge between the reverb-rich music of '60s girl groups and the guitar freefall of indie rock. Following the 2012 dissolution of Flegel's former Canadian band Women, Flegel began releasing music as their drag queen persona: ...

Our weekly Go concert recommendations are updated every Monday morning. For a comprehensive list of this week's concerts, go to our live music calendar page. R&B/Pop Billy Ocean – Wednesday, October 25 Thrasher Horne Center | Orange Park The international pop sensation Billy Ocean is 73-years young and still going strong. He'll bring his radio smashes, including "Caribbean Queen" and "Get Outta My Dreams, ...

Local indie-rock act Bad Madonna have shared their first new material as a four-piece, the spiky anti-judgment anthem "Vicious Party Girl," ahead of a single release show on October 20, at The Block Skate Supply in Springfield, with an accompanying music video due out Friday, October 27. On "Vicious Party Girl," singer-songwriter Alexis Rhode, guitarist Dylan Young and bassist Storm ...

U.K. singer-songwriter Sampha has become a go-to guest vocalist for artists such as Kendrick Lamar, Drake, Alicia Keys, Frank Ocean, Solange and Stormzy. Naturally, he's got a distinctive, genre-blending style as a solo artist, too: Sampha's second full-length album, LAHAI, showcases his vulnerability, growth and gorgeous vocals, which can sound both timelessly familiar and futuristic, often simultaneously. We've also got ...
Reporters from public radio stations across the state bring you timely news and information from around Florida. Whether it's legislative maneuvers, the economy, environmental issues, tourism, business, or the arts, Capital Report provides information on issues that affect the lives of everyday Floridians.You can also subscribe to Capital Report as a podcast on Apple, Spotify, and Google.
On tonight's program: Mobile homes are among the last affordable housing options in Florida. IF you don't get evicted; It's no surprise that property insurance rates are going up for many Florida homeowners. But it seems that isn't the only problem, even for those who have policies with the so-called "insurer of last resort"; New state government restrictions on the collection of teachers' union dues is having a significant impact on the state's largest teachers' union and its membership; Music fans have their "Lollapalooza." So why shouldn't the retail ravenous have their own "Shopapalooza?"; Holiday shoppers beware! Not all bargain buys are for real and we have some helpful hints to help you avoid getting scammed; And the State of Florida inducts its latest members of the Veterans Hall of Fame.

On tonight's program: In the wake of Veterans Day, a proposed bill to provide more care and comfort for vets in nursing home facilities; A plan to expand Florida's Telehealth program may be just what the doctor ordered for many expectant moms; There's yet another remarkable twist in a Florida murder case that was already a hot mess to begin with; As frightening as a new novel about Florida's infamous Dozier School for Boys is, even the author says it can't come close to how horrible the reality was; And Florida's first syringe exchange program, widely criticized when it began 7 years ago, seems to be working better than anyone expected.

On tonight's program: A special lawmaking session expands Florida's school voucher program, although there are still unanswered questions; Vouchers weren't the only items up for debate during this week's special session at the Florida Capitol; Lawmakers also extended more help to Hurricane Idalia victims and banned state investment in countries like Iran; A university-level sociology course containing references to sexuality, gender identity, race and ethnicity appears to be on the chopping block in Florida; Republican presidential hopefuls had another debate this week. Although some were wondering why; It seems art and culture is a bigger business in Florida than most people realize; Even though state government keeps pre-empting more and more local authority, communities like Punta Gorda are still trying to regulate such things as short term rental properties; And there's a move afoot to expand the honors accorded Florida's military veterans.

On tonight's program: Florida lawmakers return to Tallahassee next week: on their to-do list: more sanctions for Iran; How do Americans feel about the latest Israel-Hamas war?; A recent survey says, it's complicated…; And an advocacy group for undocumented young people gets a new leader; It was a record nesting season for one of Florida's favorite creatures: the sea turtle; But it was a dangerous time for pedestrians in the state; And fighting fetal and infant mortality requires having a better understanding of the communities that are impacted.

On tonight's program: Despite the legislature's past efforts, property insurance rates in Florida are not dropping. Now lawmakers are planning to give it another go in a special session and maybe beyond; There's a bit of good news about the state of Northwest Florida's world-famous oyster beds; The controversy over what books can and can't be included in public school libraries rages on; Florida approves new public school learning materials from a source that seems to have a very specific religious viewpoint; New state rules also seem to be putting a crimp on what can and can't be said on public college and university campuses in Florida; And we hear the story of "Surf Skate Science" — and what some see as an educational renaissance in Florida.

On tonight's program: Some Florida leaders worry the death struggle between Israel and Hamas may boil over into the United States; Data shows efforts to curb Florida's looming nursing shortage may be working; Charges are dropped against a Florida woman who'd been accused of voter fraud; We take a look at some new developments in the fight to control the spread of harmful algae in Florida's lakes and streams; And ss cooler weather FINALLY moves into Florida, we'll take a look back at a VERY steamy summer.
Florida Frontiers: The Weekly Radio Magazine of the Florida Historical Society is a combination of interview segments and produced features covering history-based events, exhibitions, activities, places and people in Florida. Join host Ben Brotemarkle as he explores the relevance of Florida history to contemporary society, and promotes awareness of heritage and culture tourism options in the state.
SEGMENTS | Thomas Edison in Fort Myers | Father Theodore Gibson and the Miami NAACP | Clearwater Lawn Bowling Club

SEGMENTS | Journalist Mabel Norris Reese | The Lynching of Claude Neal | Advice Columnist Dorothy Ricker

SEGMENTS | Dispatches from Beluthahatchee | Hastings Public Library | Blacksmith John Pfund

SEGMENTS | Ax Handle Saturday | Diplomat Bert Fish | Patsy West and the Seminole

SEGMENTS | Florida Ties to the First Black Regiment in the Civil War | The Town of Fellsmere in Indian River County | An Early Automotive Road Trip

SEGMENTS | Artist Chad Light on A.I. | Historic Post Offices | Florida State Folklorist Dom Tartaglia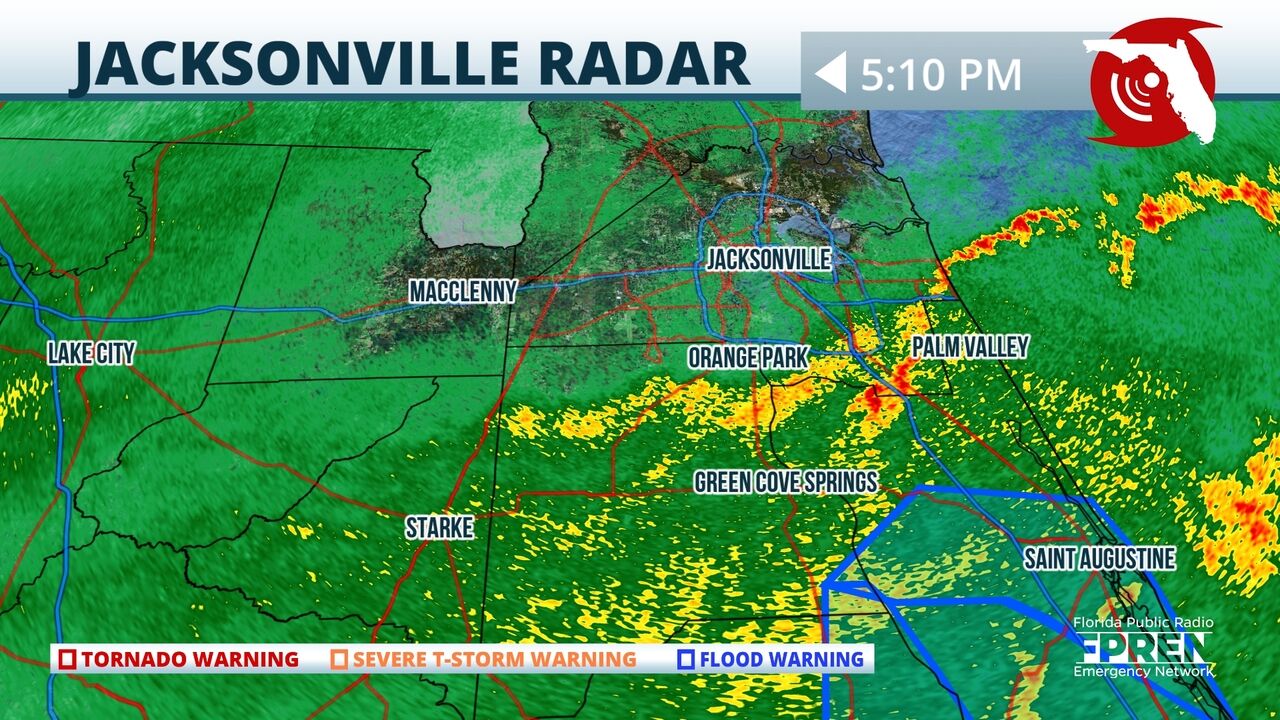 Discover Jacksonville like never before with
Jacksonville Today
, a nonprofit local digital journalism service from WJCT Public Media. With a daily five-minute read, stay updated on the city's top news, events, and engaging opinion pieces. Beyond news, it's your doorway to actively participate in the community. Get ready to experience Jacksonville, one email at a time.
NPR News is your go-to destination for reliable national news, delivering comprehensive reporting, thoughtful analysis, and engaging storytelling. With a commitment to accuracy and balanced coverage, NPR News keeps you informed about the latest national happenings, offering insights and perspectives that go beyond surface-level news.
Former president Jimmy Carter attended the tribute for his wife of 77 years.

Jean Knight, the New Orleans-born soul singer behind the infectious 1971 hit "Mr. Big Stuff," has died. She was 80.

Conservative mega-donors the Koch brothers are throwing their influential network behind Nikki Haley in an effort to beat former President Donald Trump.

The U.S.'s lead diplomat heads towards the Middle East again, in an effort to extending the pause in fighting, greater humanitarian access in Gaza and a release of more hostages.

The so-called Philly 15 were exonerated recently. They were a group of African-American soldiers protesting racist treatment during World War II. At the time, the Philly 15 were discharged as unfit.

Earlier in November, the House Oversight and Judiciary Committees subpoenaed Hunter Biden demanding he testify behind closed doors. Now, he's telling Congress he's willing to testify, but in public.
Every weekday for over three decades, NPR's Morning Edition has taken listeners around the country and the world with two hours of multi-faceted stories and commentaries that inform challenge and occasionally amuse. Morning Edition is the most listened-to news radio program in the country.

Weekdays 5:00 a.m. to 9 a.m.
Three days of public mourning began Monday for Rosalynn Carter. The former First Lady died this month following a dementia diagnosis. Scores of people turned out Monday at the Carter Center.

As Israel and Hamas continue to negotiate, NPR's A Martinez asks Middle East scholar Shibley Telhami how hostages and prisoners have been used in the long-term conflict.

Israelis and Palestinians are waiting to see how much longer the cease-fire could be extended, and how many more hostages and prisoners will go home.

A handwritten lyric sheet for two of his songs will be auctioned off in the U.K. on Tuesday. It includes notes on the 1972 track "Suffragette City." The page is expected to go for over $100,000.

The New Orleans native was best known for her 1971 hit single, "Mr. Big Stuff." The song reached No. 2 on the Billboard Hot 100 and was nominated for a Grammy in 1972.

The Netherlands is the latest country in Europe to give a far-right party the most votes in a national election, though not enough to govern. Concern over migration is often cited as the cause.
In-depth reporting has transformed the way listeners understand current events and view the world. Every weekday, hear two hours of breaking news mixed with compelling analysis, insightful commentaries, interviews, and special - sometimes quirky - features.
Weekdays 4:00 p.m. to 6 p.m.
India rejoices as 41 men are rescued from a tunnel they were trapped inside for 17 days. The tunnel is part of a government flagship project to expand access to sacred shrines in the Himalayas.

Through song and pictures, Israel commemorated the 364 killed and around 40 taken hostage Oct. 27 while at a music festival in the Negev Desert. The event was put on at the site of the deadly attack.

Venezuelans attempt to tackle the massive oil slicks that are clogging up one of South America's largest bodies of inland water — by using human hair.

Hamas freed 12 more hostages it seized in its deadly assault on Israel on Oct. 7. This comes as the ceasefire between Israel and Hamas enters its fifth day.

The Texas Supreme Court held a hearing on the state's medical exception to its abortion bans. Plaintiffs including women and doctors say the law is endangering lives in complicated wanted pregnancies.

A memorial service for former first lady Rosalynn Carter was held in Atlanta, Ga. Friends and family were joined by presidents and first ladies in honoring her.
Marketplace, hosted by the charismatic Kai Ryssdal and produced by American Public Media (APM), is an influential and informative radio program that delivers a fresh perspective on the economy, business, and finance.
We've been talking about making an economic "soft landing" for over a year — but how will the Federal Reserve know we're there? In this episode, Chicago Fed President Austan Goolsbee tells us what indicators he looks at to gauge inflation trends and why cooling the economy is sorta like cooking a turkey. Plus, we'll answer some business world questions: How is the chemicals sector doing after a pandemic boom? Why are corporate profits trending down? What does a board of directors do?

After a yearlong slump, the World Trade Organization said the volume of global trade in goods is set to rebound in the coming year. Leading the charge will be auto parts and electronic components, the WTO said, particularly because demand for electric vehicles is high. In this episode, what it'll take for global trade to return to pre-pandemic levels. Plus, retailers need those holiday discounts to draw customers, utility companies test out geothermal networks and newly built homes drive the homebuying market.

Americans will drop $37 billion online this long holiday shopping weekend, according to Adobe Analytics. A lot of those consumers are counting on free, easy returns if their items don't work out, but retailers are unhappy with how much that process costs. In this Black Friday episode, whether stores will ever shrink that return window or go back to charging you for changing your mind. Plus, noisy workplaces, the cookie decoration business and Queen Nefertiti, the original beauty influencer.

It's not just you: The holiday shopping season really did start sooner this year. Retailers are competing for consumer dollars with sales and discounts, early and often. Plus, tomorrow is one of retailers' favorite holidays: Black Friday. But the lines between in-store and online shopping are blurring. Later, we hear about post-breakup splurges and healthier habits for night shift workers.

The Farm Bureau says Thanksgiving meals will cost a bit less than they did in 2022. But everyone experiences the economy differently. So we talked to last-minute grocery shoppers in Houston about the prices of holiday essentials, from turkey wings to mac and cheese ingredients. Also in this episode: Google makes a business out of CAPTCHA puzzle data, the FCC wants to ban cable cord-cutting fees and OPEC+ delays a key meeting.