Duval School District Fears Losing Capital Dollars To Charter Schools
Updated at 7:58 p.m.
The Duval County School Board unanimously passed a resolution Tuesday against state legislation that would require the district share some of its levied tax dollars with privately run public charter schools.
Board members gave a presentation against the legislation, which is gaining traction in the Senate and House.
Original Story
The Duval County School Board is expected to vote on a resolution Tuesday against proposed state legislation that would require the district share some of its levied tax dollars with privately run public charter schools.
The vote will take place at the board's monthly 6 p.m. school board meeting at the district's administration office.
The local property tax is used to pay for capital projects, including building maintenance, new schools and technology.
Duval School Board member Becki Couch, who has been lobbying in Tallahassee on behalf of the district, said Duval County Public Schools earns about $86.7 million a year from the tax, which she said isn't enough.
The district uses about $36 million toward capital project debt a year, and there's a backlog of about $120 million worth of maintenance projects.
Couch said if the bill passes, it could leave Duval's traditional public schools with around $20 million for projects after making the debt payment and sharing some money with charters.
"So that major, minor maintenance would just continue to balloon and we would never be able to meet the criteria that we have to meet," Couch said.
Sixty percent of Duval's schools are 50 years or older. Couch said the backlog of maintenance projects range for roof replacements to required upgrades to double the schools as hurricane shelters.
And the school district must meet more building criteria than charters.
"We have to have, for example, covered walkways that cover between buildings and portables," she said. "Charter schools don't have to have those."
Currently local districts share with charter schools Public Education Capital Outlay dollars, which come from a tax on utility services, but charters have never been given local property tax dollars. Couch said she doesn't believe sharing the money is wise.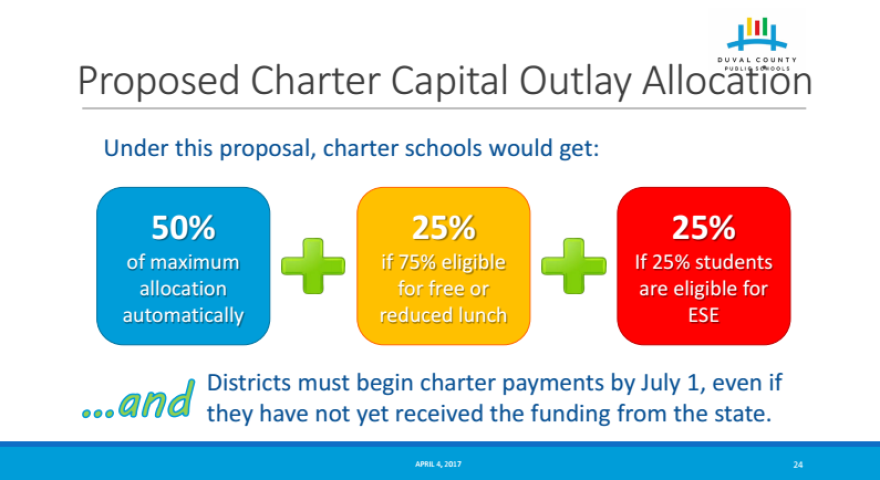 "The charter schools can use this money for leased buildings," Couch said. "If they wanted to do an upgrade to a building in which they're leasing, they could. The problem is, there's no way for the taxpayer to get that money back."
She said the charter operator can sell the building, enhanced with tax dollars, and that money wouldn't go back in the district's budget.
As Senate Bill 376 reads, charters would have to qualify for funding by meeting several standards, including operating for two years or more, passing an annual audit and being a nonprofit.
Charters would receive more money for serving high numbers of students on free and reduced lunch or children with disabilities.
The bill is sponsored by Sen. David Simmons, R- Altamonte Springs. A similar bill is going through the House of Representatives. The House and Senate would have to agree on a final version.
Simmons is also pushing a separate bill that would allow local districts to raise property taxes by increasing the cap by 25 percent. However, that bill does not have a matching bill in the House.
Couch said, even if the district could raise local taxes, it wouldn't fix the problem.
"We would still be $20 million less than where we are today," she said.
Couch and Duval Superintendent Nikolai Vitti will be giving a presentation against the legislation at Tuesday's board meeting.
Photo: "Money in Hands" used under Creative Commons.
Reporter Lindsey Kilbride can be reached at lkilbride@wjct.org, 904-358-6359 or on Twitter at @lindskilbride.