Ribault High School JROTC Cadet Receives Prestigious Honor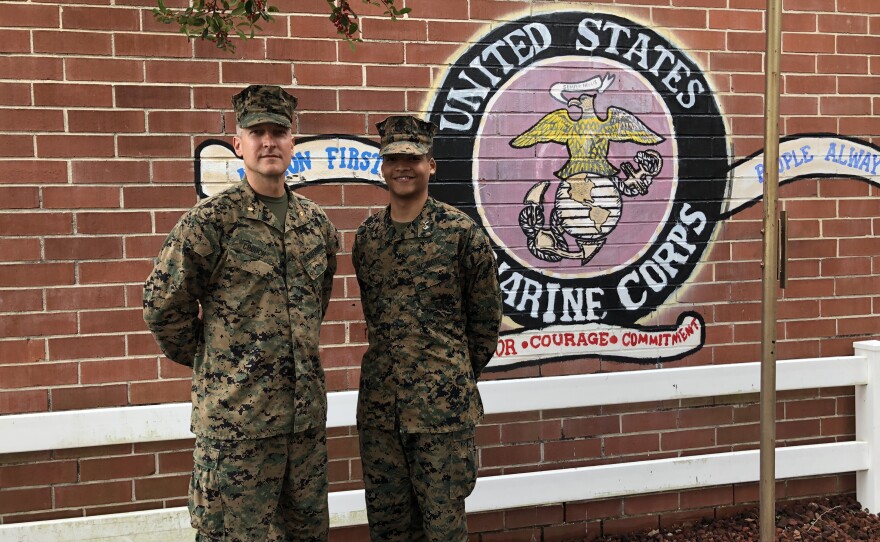 Major Alan Crouch and Cadet Lt. Col. Gregory Hill.
Joslyn Simmons
Marine Corps JROTC Cadet Lt. Col. Gregory Hill
Joslyn Simmons
Cadet Lt. Col. Gregory Hill helps with the color guard detail.
Joslyn Simmons
Cadet Lt. Col. Gregory Hill oversees uniform inspections.
Joslyn Simmons
A Jacksonville high school Marine Corps Junior ROTC cadet has received a prestigious award for his hard work ethic and leadership skills in the classroom and the community.
JROTC Cadet Lt. Col. Gregory Hill, a senior, has been with the program his entire four years at Jean Ribault High School.
The well-respected student was selected as 2017-2018 Legion of Valor Bronze Cross for Achievement recipient for Region two. The region covers the southeastern part of the country.
Hill at first didn't want to be a part of the Junior ROTC. His brother had already done that.
But Ribault put the Junior ROTC class on his schedule. He tried to switch classes with his mother's help but it didn't work out. That left him stuck. But that feeling of being stuck, wouldn't remain for long, after his first day full of the typical picture of what ROTC is portrayed to be.
"What really kept me going, I was fascinated of that. You know this isn't so bad. I can do this," Hill said. "And as we got more into the basics of leadership and just different things, and being a part of something that is bigger than myself."
Hill began to see the program as a chance he couldn't pass up to hone in on his leadership skills in Junior ROTC and the classroom.
For Hill, some of his favorite memories include his second promotion. He became a Cadet Lance Corporal, which has propelled him to this point and left him with this reflection.
"You know, I was in really good standing to be an outstanding leader in this program and in my school and in my community."
An application was sent in by his senior instructor that demonstrated Hill's leadership presence and academic pursuits before the start of senior year. He also received four recommendation letters that included his principal and a judge.
The Legion of Valor Bronze Cross for Achievement is presented to only one cadet for each region.
Hill was humbled by the recognition and didn't see the honor coming at first, because of the large amount of possible candidates working in his region.
"Out of 55 schools and 7,000 cadets I know there's a lot of people you know work really hard and have done amazing things in their programs," Hill said.
Major Alan Crouch, United States Marine Corps retired, has watched Hill move through the program as a cadet. Crouch said Hill takes on tasks with passion that can be seen as an example to others.
"He's very dependable, very trainable, he learn things that you teach him and then he turns around and is able to help teach that to the newer cadets" Crouch said.
The senior isn't just active in the Junior ROTC. He's also a member of the National Honor Society, has been in student government, and other scholastic driven activities.
Hill balances school work, ROTC and other outside activities with the attitude of giving it all he's got.
Hill said it's not easy but adds if you're not challenged then you're not growing.
Hill sees the award as more than just something to pin on his uniform.
"This award isn't just for me or the ROTC program, I think it [is] for Ribault and our community as a whole," Hill said.
After high school, Hill plans on going to college and study in a science field such as biology or veterinary medicine.
"Ultimately, I definitely think that if the military is an option it will be after college," Hill said.
Joslyn Simmons can be reached at newsteam@wjct.org, 904-358-6316.