Budweiser Will End Plant Tours In Jacksonville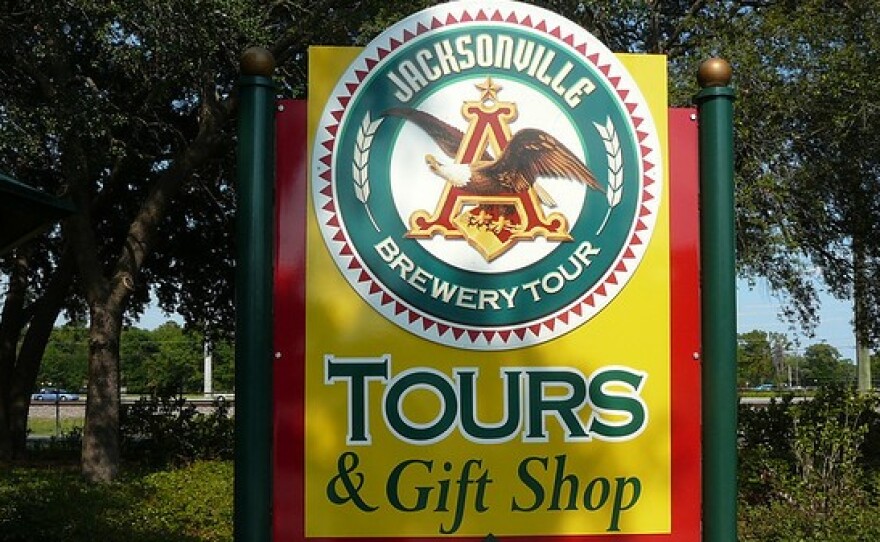 The sign to the Budweiser Brewery Tour at the Jacksonville plant on Dunn Ave.
Modern Cities
Tours are expected to end at Jacksonville's Budweiser plant on Dec. 23.
Modern Cities
The current tour includes a look at the brewing process.
Modern Cities
If you were thinking of taking a tour of Jacksonville's Budweiser plant, you better hurry.
The beer canning and bottling plant will be ending tours and closing the gift shop on Dec. 23, 2018.
"Unfortunately, we have decided to discontinue our tour center operations. This will allow us to focus resources on additional community activities and programs. We are always focused on simplifying and streamlining our business, and focusing our resources to invest in growth," said Anheuser-Busch Director of Corporate Communications Samantha Roth.
Roth said the tour center has not been financial viable for some time. "This change will not impact on any other part of our brewery operations or workforce," said Roth.
The Jacksonville Budweiser Brewery opened in 1969 on Dunn Avenue on the city's Northside. It operates around the clock with assembly lines filling cans, bottles and kegs with multiple brands of beer.
It's owned by Anheuser-Busch InBev, which was formed when American brewer Anheuser-Busch and Belgian-Brazillan brewer InBev combined in 2008.
Currently the brewery offer's free self-guided tours where guests can learn about Budweiser's signature seven-step brewing process that was created more than 100 years ago. Guided tours cost $10 for adults, $5 for those age 8 to 20 and are free for children 7 and under. "Beermaster" tours cost $30 for adults and $20 for ages 13-20.
The tour also includes a tap room where guests 21 and older can purchase beers, soda and food.
According to Budweiser's website, tours are offered at its plants in Jacksonville; St. Louis; Fairfield, Calif.; Ft. Collins, Colo.; Houston and Merrimack, N.H.
Additional information about the Jacksonville tour is available at this page or visitors can call 904-751-8117 for tour options and reservations.
Bill Bortzfield can be reached at bbortzfield@wjct.org, 904-358-6349 or on Twitter at @BortzInJax.