WJCT's 'Jacksonville Music Experience' Is New Stations, Live Shows, Podcast And More
WJCT on Wednesday launched the Jacksonville Music Experience, a set of new music services that include HD Radio and internet radio stations, live performances on Facebook, television shows and a new podcast produced in partnership with Void Magazine.
The Jacksonville Music Experience includes three 24/7 channels that are streaming online and on HD Radio:
Anthology is a locally hand-curated playlist of music from the 1960s, '70s and '80s. It airs on 89.9 FM HD3 and at WJCT.org or in the WJCT app for Android and iOS.
Electro Lounge Radio expands WJCT's flagship music program into a full station of relaxing, downtempo and chillout music on 89.9 FM HD4 and streams at WJCT.org and in the WJCT app for Android and iOS. Its playlists are also available on Spotify and Apple Music
Classical 24 from American Public Media is on 89.9 FM HD2 and streams at WJCT.org and in the WJCT app for Android and iOS
HD Radio comes standard in many newer cars and home receivers. It gives listeners better sound quality and additional channels to choose from as compared to traditional FM or AM radio receivers.
If you're unsure if your car has it, look for the HD Radio icon on your car's display or visit the HD Radio website for more information.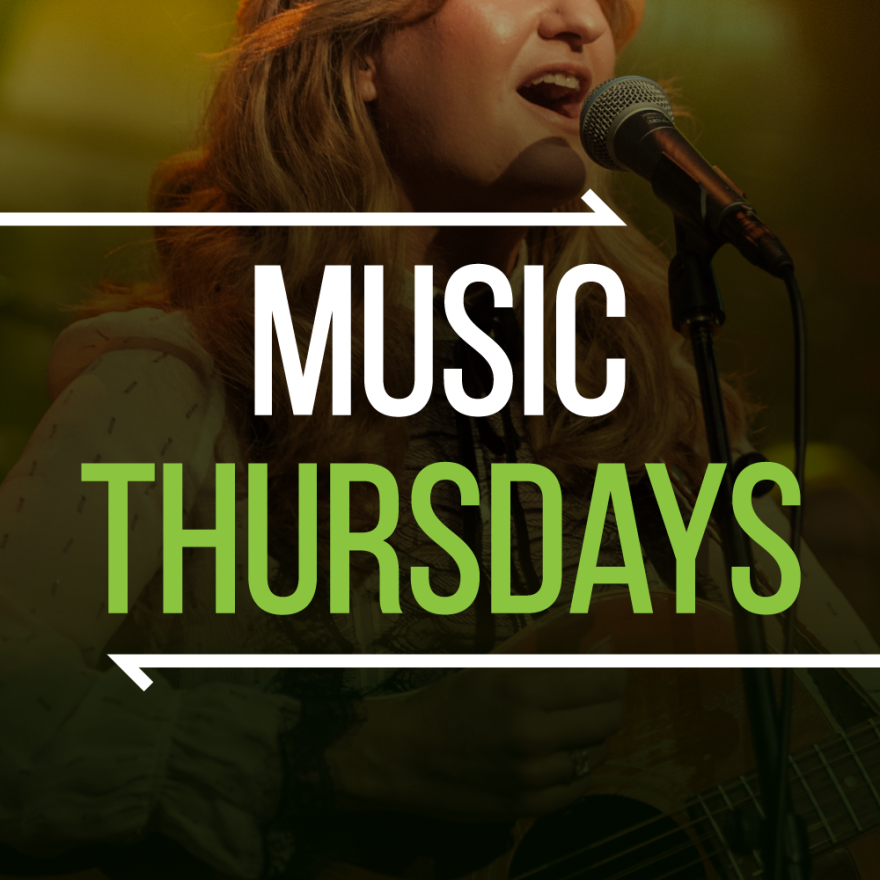 Music Thursdays
WJCT is also dedicating Thursday nights to music on television. Every Thursday starting at 8 p.m., WJCT TV 7.1 (Comcast channels 8 & 440) broadcasts a curated selection of music programming from PBS, ranging from live concert performances including musicians like Billie Eilish, documentaries like Country Music by Ken Burns, series like Austin City Limits, in-depth interviews with artists and more. Many of the shows are also available to stream on demand through WJCT's Passport and in the WJCT app for Android and iOS.
Studio 5 Sessions
JME also includes Studio 5 Sessions, a music video series that follows a format similar to NPR Music's Tiny Desk Concert series. Northeast Florida artists perform from WJCT's Studio 5.
'VOIDCAST'
The VOIDCASTpodcast miniaseries is produced in partnership with Void Magazine. It explores the past and present of music in Northeast Florida with the help of local musicians, producers and the people who lived through it. It's hosted by Void Magazine Editor Matt Shaw and produced by WJCT's Special Projects Producer Lindsey Kilbride.
"This podcast is truly good content for people who maybe don't know a lot about music, but it's also a musician's podcast," said Kilbride.
The three episodes cover the Allman Brothers Band's formative period in Jacksonville; locals making music alone in their bedrooms — including one who scored a big record deal; and women and queer people claiming their space in the Northeast Florida hip-hop scene. VOIDCAST is available on all major podcast platforms and at wjct.org/voidcast.
WJCT Virtual Soundstage
The JME is also bringing social media viewers live performances from the WJCT Virtual Soundstage. Performances from local artists like Taylor Roberts, Junco Royals and Luke Peacock are scheduled at 7 p.m. starting Thursday evening, April 16, in celebration of the JME launch. For information about scheduled performances, join the JME Facebook Group.
The Virtual Soundstage is an offshoot of the live public performances at the WJCT Soundstage, which provides an intimate concert experience at WJCT. Live performances with a studio audience are currently on hiatus due to the coronavirus pandemic but they will return as soon as it is safe to open our doors to the public again. To date, Soundstage events have included performances by The Rippingtons, Mindo Abair and the Boneshakers, Jesse Cook, and comedian Paula Poundstone.
WJCT picked April 16 to formally launch the Jacksonville Music Experience because it's Public Radio Music Day, designated by congressional resolution. NPR member stations across the country are celebrating the special role that noncommercial stations play in the world of music.
Many stations are are hosting on-air and online events, virtual studio sessions, appearances by special guests and more. For a look at what some of our sister stations around the country are doing, see this NPR webpage.
Bill Bortzfield can be reached at bbortzfield@wjct.org or on Twitter at @BortzInJax.
Jessica Palombo can be reached at jpalombo@wjct.org.