Jacksonville City Officials Hold Solidarity March Outside City Hall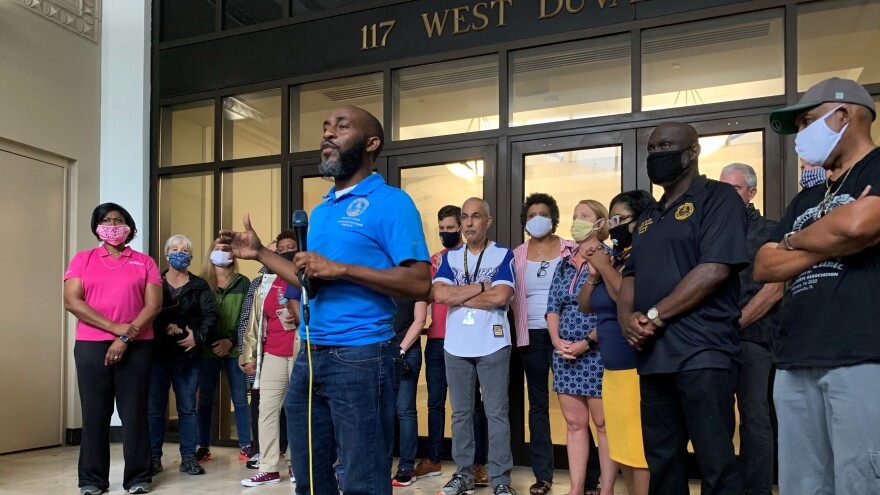 A little over half the members of Jacksonville's City Council, Duval Public Schools administration, and Florida Agriculture Commissioner Nikki Fried took part in a solidarity walk beginning at City Hall on Sunday morning.
Despite heavy rain that flooded much of the city and blocked major roads, a couple hundred people showed up outside the building to listen as the officials talked about Jacksonville's need to address racial disparities.
"There's a lot of promises that you hear about that have been broken over the years," said Councilman Garrett Dennis, who organized the event. "And we all are committed in solidarity to bring these promises into fruition and, again, to better the quality of life for the citizens here in Jacksonville."
Councilwoman Joyce Morgan said she hopes that the national discussion over racism will lead to significant progress toward equality.
"It is time for elected officials," Morgan said. "It is time for citizens. It is time for the police. It is time for the police unions. It is time for all of us, including our state attorney [Melissa Nelson], to be at the table because together is the only way you make a change."
Dennis has introduced four pieces of legislation that he said address some of the issues that have led to thousands of people marching in the streets for more than a week straight. Among them is a resolution that would urge Jacksonville Sheriff Mike Williams to work with the state attorney's office and the public to "refine and improve" police-worn body camera policies.
Mayor Lenny Curry declined Dennis' invitation to attend the Sunday march, announcing last week he would attend a different march in the coming week. Curry also announced via Twitter he will also be introducing legislation regarding "racial inequality" this week.
Dennis, a longtime outspoken critic of the mayor, said on Sunday, "Whatever legislation or whatever policies he puts forward, as a council, we need to, to vet it, and quite frankly, embrace it. We're in this together. It's not an adversary type of a relationship. It's about moving Jacksonville forward, and for the past five years I've been on council, we haven't moved Jacksonville forward."
Other council members said, regardless of what happens at City Hall, a big opportunity to address racial inequality in education will come in November, when Duval County voters will see a half-cent school-improvement tax on their ballots.
"We're gonna pass it," said Councilman Matt Carlucci. "Then we're gonna make a change for schools, primarily the ones built before 1970, when desegregation happened."
Duval School Board member Darryl Willie, who represents schools on Jacksonville's Northwest side, said having conversations with people of differing views is important.
"That's where you change hearts and mindsets," Willie said.
Jacksonville Democratic state Representative Tracie Davis was also in attendance.
"When you vote, you vote in honor of those people who have been brutalized and no longer with us anymore," Davis said.
Davis spoke alongside Agriculture Commissioner Fried, Florida's only statewide elected Democrat.
"I can give you my absolute promise that this is not a moment, [and] that this is a movement," Fried said. "The time for change has passed, so we need to act today."
After speaking, there was 8 minutes and 46 seconds of silence held in honor of George Floyd, the 46-year-old Minneapolis man who was killed by police on May 25.
A group of the officials marched with demonstrators in the rain toward the Downtown Jacksonville Fire and Rescue Department headquarters.
Sky Lebron can be reached at slebron@wjct.org, 904-358-6319 or on Twitter at@SkylerLebron.