Plans For New Green Infrastructure Project To Be Shared At Jacksonville Earth Day Event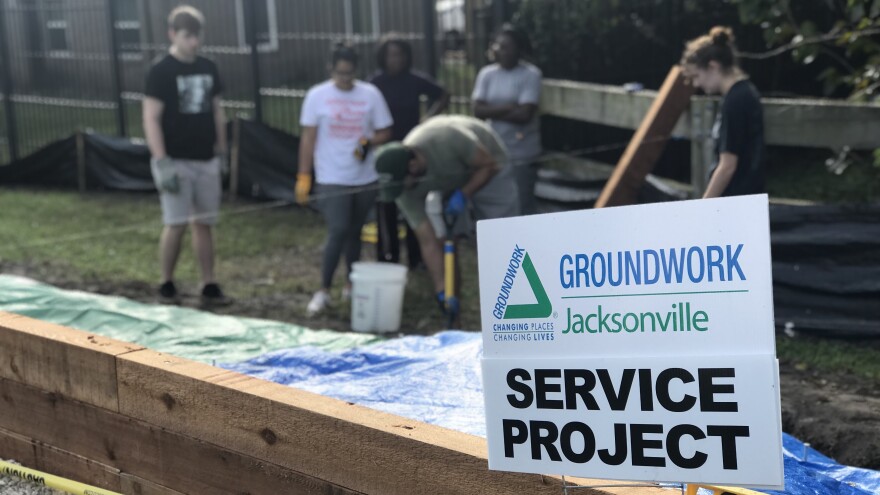 Local environmental nonprofits are hosting a free Earth Day event Saturday on the site of a planned new park.
Regeneration Park is a "green infrastructure and community stewardship project" that will be built along the Emerald Trail.
According to the Duval Soil and Water Conservation District, the goal of the project is "demonstrating urban agriculture, cultivating environmental stewardship and empowering residents to build with nature for social, economic and environmental health." It will be on half an acre of currently unused public land along the S-Line link of Groundwork Jacksonville's Emerald Trail near the Sugar Hill Mosaic.
Joshua Rosenberg, founder of the permaculture design and real estate company NativeJax, is designing the park on a previously contaminated site that has been cleaned up.
"We wanted to do something to help educate the community and other people about how to really use plants in an effective way that fixes soil, produces a yield and gives back," Rosenberg said. "The point is to really just show people that putting plants in the ground and getting rid of grass is kind of the best way to start transforming our soils from sand into something that's living matter."
The park will also help reduce flooding in the area.
"Putting roots in the ground and putting water-loving plants and creating bioswales, if necessary, are all aspects that could really help mitigate those water issues without having to do expensive French drains, or things like that, to move water to other places," Rosenberg explained. "Instead, we want to keep the water where it's at."
The plans for Regeneration Park will be on display at the Earth Day: A Celebration of Stewardship event, along with demonstrations of how to make homes and neighborhoods more eco-friendly.
There will be live music, prize giveaways and other activities at the free event from 10 a.m. to 1 p.m. Saturday on the S-Line Biodiversity Corridor of the Emerald Trail, between Moncrief Road and Boulevard. Parking is available at the Christ Tabernacle Missionary Baptist Church at 2335 N. Davis St.
The organizations partnering on the event are Groundwork Jacksonville, the Duval Soil and Water Conservation District, NativeJax Permaculture Design & Real Estate, the Jacksonville Zoo and Gardens, Alkavita Alkaline Water, Jax Youth Works and Jacksonville Art & Music School. The event is funded in part by a grant from the Jacksonville Environmental Protection Board.
For more information, contact Groundwork Jacksonville's Program Manager Shanell Davis-Bryant at Shanell@GroundworkJacksonville.org.
Brendan Rivers can be reached at brivers@wjct.org, 904-358-6396 or on Twitter at @BrendanRivers.