Jax Pediatrics Group Supports Mask Exemptions For Autism, Developmental Delays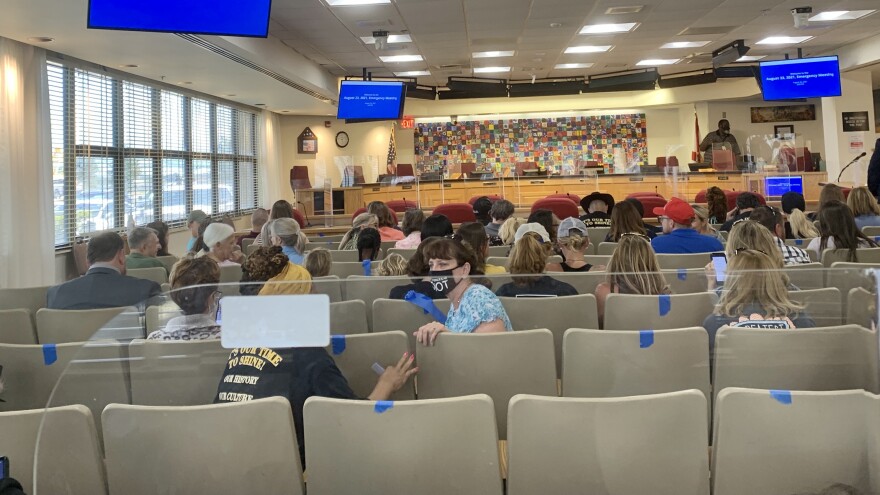 Jacksonville-area clinic Carithers Pediatrics Group says it may grant facemask exemptions for children with autism, developmental delays and some hearing impairments, but not for children with asthma.
The announcement comes after the Duval County Public Schools (DCPS) Board voted Monday to mandate facemasks for all DCPS' 125,000 students, except with a medical, physical or psychological exemption from a doctor.
The rule came after eight hours of deliberation and public comment in which board members heard from local physicians Dr. Sunil Joshi, Dr. Mobeen Rathore and Dr. Jeffrey Goldhaven, all of whom recommended immediate and stringent mask mandates.
"We have to get over the overplayed and inaccurate thought that COVID-19 is an insignificant infection in children. That is simply not true, especially with the delta variant," said Duval County Medical Society Foundation President Dr. Joshi. "Most recently, the American Academy of Pediatrics noted that in the period of May 2020 through July of 21, roughly 400 children died of COVID-19 in the United States. That's comparable to the flu, which we have a vaccine for. In this case, children under 12 are not able to get the vaccine."
Data show the coronavirus is having a much more significant impact on DCPS students than it did last year, with 815 cases since school began on Aug. 10. That's more than a quarter of all cases reported in DCPS for the entirety of the 2020 school year.
But concerned parents presented the School Board with misinformation, according to doctors, about how masks work and which medications are an effective way to prevent disease, as well as single studies that undermine the medical consensus.
"I have a study from the International Journal of Environmental Research and Public Health," said DCPS grandparent Margie Barrientos. "It's 42 pages long. I'm going to email it to you so you can read it. It states clearly that masks don't work and they're harmful to our children."
The specific journal she cited has a history of publishing poor quality research and has been considered a predatory publisher, meaning it charges authors to publish research and does not thoroughly vet what it publishes.
"My question is, would you say in your research, or in talking to your colleagues, every pediatrician, health care professional agrees that masking children is absolutely necessary right now?" asked board member Charlotte Joyce, one of two DCPS board members who voted against the new rule.
"If you've got five physicians in a room, we can't agree on the color of the wallpaper sometimes," said Dr. Joshi. "But the general medical consensus is overwhelmingly in support of masks, then yes, we are overwhelmingly in support of this. But not 100%."
Joshi said groups like the American Academy of Pediatrics relies on meta-analysis of multiple individual studies to come to broad consensus.
"My concern is, as a mother of five children, I have a right to pick my pediatrician," Joyce replied. "Are we creating an environment where parents are like, well, what pediatrician's going to give me an opt-out."
Joyce and fellow no-vote Lori Hershey lobbied the board to extend the length of time until the new rules go into effect so parents would have enough time to schedule a doctor's appointment.
The new guidance goes into effect on Tuesday, September 7.
Contact Sydney Boles at sboles@wjct.org, or on Twitter at@sydneyboles.