Episode 1 - 'Darndest Thing I Ever Saw'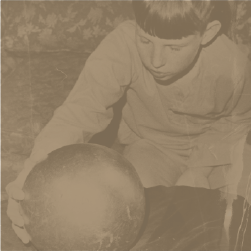 In 1974 a metal sphere was discovered on a prominent family's property in Jacksonville, Florida. What at first was a mere curiosity soon seemed more otherworldly as, witnesses say, it rolled around on its own. A media frenzy erupted as the ball sparked interest from the Navy and nationally renowned scientists. The obsession with the mysterious ball ultimately silenced the family.
Odd Ball is made possible by supporters of WJCT Public Media, with additional support from Bold Bean Coffee Roasters.
Want to hear the entire podcast right now? Visit https://oddballpodcast.com/shop. Binge the whole series with the Odd Ball All-Access Pass! For $20, you get immediate access to every single episode. No waiting until next week! And for a $50 contribution, you can get the Odd Ball All-Access Bundle which includes the All-Access Pass, a pound of Bold Bean Odd Ball blend coffee, an Bold Bean/Odd Ball mug and tote bag!