Florida Legislature Slashes Funds For Land Acquisition, Conservation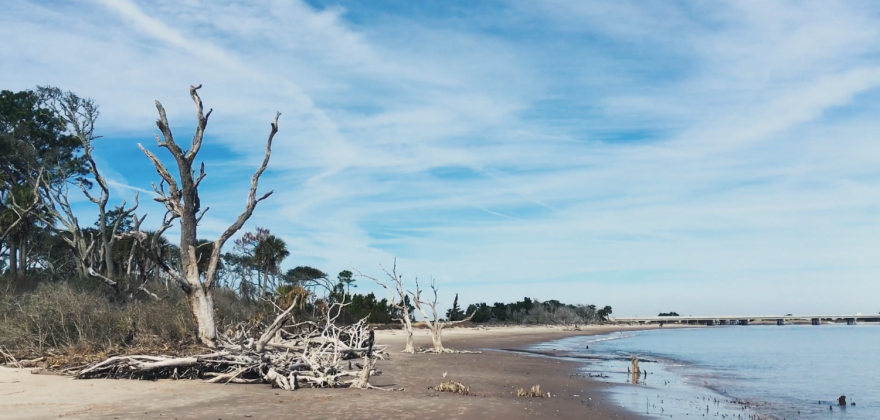 Updated at 11 a.m. Tuesday
On the wall behind Jim McCarthy's desk hangs a large photograph of a skeletonized tree trunk resting on the iconic Boneyard Beach at Big Talbot Island State Park.
"That beach is important," said McCarthy, president of North Florida Land Trust. Since 2012, the nonprofit organization has preserved most of the over 1,000 acres of privately owned land on the island. The project, which protects migratory birds' layover spots and diamondback terrapins' dwellings, is largely financed by a private fund.
But in 2016, no money trickled in from Tallahassee through the budget for Florida Forever, the state's main program for acquiring lands for conservation and recreation, which has seen its funds — once as high as $300 million — thaw to less than $20 million in the last three years.
Gearing toward the May 5 deadline to pass a budget for the 2017–2018 fiscal year, the Florida House is earmarking no funds for Florida Forever, while the Senate is offering $10 million — a half of the dollars for all land protection programs.
"That is devastating to us to see what the House and the Senate are doing," McCarthy said.
Eric Draper, executive director of Audubon Florida, said this year's budgetary cut evinces lawmakers' different priorities.
"Even though Florida is a growing state and a very wealthy state," he said, "legislators have an ideological belief that taxes should be cut, government spending should be cut. And a lot of legislators do not care about the environment at all."
The House aims to incise state expenses in anticipation of a deficit, producing a budget proposal smaller than the Senate's. Rep. Ben Albritton, R-Wauchula, who heads the House subcommittee in charge of allocating funds to the environment, said: "We decided to focus on people. We also focused on programs that are really, quite frankly, very necessary."
The Florida Conservation Coalition, an association of environmental organizations, advocates for a quarter of the money in the Land Acquisition Trust Fund be spent on conservation.
An amendment by Sen. Linda Stewart, D-Orlando, honored this demand as a correction to a bill by Sen. Rob Bradley, R-Fleming Island, that channels funds to St. Johns River restoration. A day after she filed her proposition, however, Stewart withdrew it during the April 12 Senate session.
"I think it can be a bigger and greater bill for next year," she said on the floor after Bradley urged her to retract the amendment as not to "jeopardize" the passage of his legislation, which is a top priority for Senate President Joe Negron,R-Stuart.
While McCarthy acknowledges the need to protect the Everglades, he bemoans the disregard for other projects.
"I do not get it, except that a few people have enough power in Tallahassee right now — Negron is certainly one and (House) Speaker (Richard) Corcoran, R-Land O'Lakes, is another — that are just beating their colleagues into submission," he said.
Florida Forever was launched in 2001 as a replacement for Preservation 2000. Its budget comes from a third of real estate sale taxes but has steeply plunged since the Great Recession. At the 2014 state Senate election, some 75 percent of voters approved Amendment 1, which restores consistent funding for Florida Forever.
"Unfortunately, the legislature has not done the will of the people in this state and has failed to fully fund Florida Forever, even though this amendment passed," said Preston Robertson, vice president for conservation and general counsel at Florida Wildlife Federation.
In 2015, environmental organizations, including Florida Wildlife Federation, launched a still ongoing lawsuit against the legislature for misappropriating Amendment 1 resources for administrative costs instead of land acquisition and protection.
Florida Forever follows a priority list of critical natural lands, which for 2017, numbers close to 120 swaths at various stages of acquisition. Florida Forever, together with its predecessor, has contributed to the purchase of over 2.5 million acres of conservation areas.
Contributor Dima Vitanova can be reached at dima93vitanova@gmail.com
CORRECTIONS: A third of documentary stamp tax revenue is placed in the Land Acquisition Trust Fund since the passage of Amendment 1 in 2014. Also, Sen. Linda Stewart, D-Orlando, filed an amendment onto SB 234 to channels funds to the St. Johns River restoration.