New State Budget Lands On Gov. Scott's Desk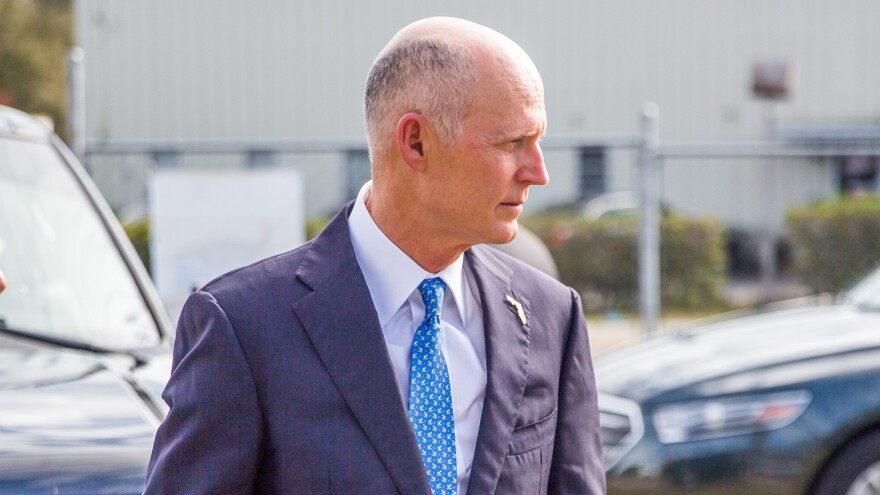 The clock is now ticking on Gov. Rick Scott to act on his final state budget.
The Legislature sent a newly passed $88.7 billion fiscal plan to the governor's office Wednesday, giving Scott 15 days to decide the line-by-line fate of how lawmakers want to spend money, from big-ticket items such as education and health care to numerous local projects backed by individual lawmakers.
Asked when Scott might act on the budget, a spokesman responded Wednesday in an email, "We'll keep you updated on this."
The budget (HB 5001), which was approved by the House and Senate on Sunday, was among 47 bills formally sent Wednesday to Scott, who cannot seek a third term in November.
The 452-page budget, among other things, would increase public-school funding by $101.50 per student, provide $100.8 million for the Florida Forever land preservation program and offer a $130 million increase in Medicaid funding for nursing homes. The spending plan will take effect July 1, the start of the 2018-2019 fiscal year.
Last year, Scott used his line-item veto pen to slash $410 million in projects across the state, saying they failed to "provide a great return for Florida families."
Included on the 2017 chopping block were $20.9 million for citrus-canker payments in Broward County and $16.5 million for similar payments in Lee County.
Legislators had agreed to pay the money to compensate residents in a class-action suit who had lost orange, grapefruit and other citrus trees as part of a Florida Department of Agriculture program to stop the spread of deadly citrus-canker disease. Attorneys for the homeowners raised property-rights arguments in challenging the department's actions, and a judgment was entered in 2008.
Scott wrote in a letter to Secretary of State Ken Detzner that he vetoed the citrus-canker money due to ongoing litigation.
Legislators this year included $22 million for citrus-canker payments in Broward County and $30 million for similar payments in Palm Beach County.
Along with the budget, other bills that reached Scott desk on Wednesday included:
--- HB 21, which would take a series of steps to try to curb the state's opioid crisis. The bill includes limiting opioid prescriptions to three or seven days for many patients.
--- HB 1165, which would revamp state laws about approving trauma centers. The bill comes after years of legal and regulatory fights about new trauma centers.
--- HB 1011, which would require homeowners' insurance policies to make clear that they do not cover flood damages and that policyholders might need to consider buying flood insurance.
--- HB 7099, which would ratify a rule requiring nursing homes to have generators and 72 hours of fuel. The Scott administration issued the rule after the deaths of Broward County nursing-home residents following Hurricane Irma.
--- HB 1013, which would seek to keep Florida on daylight-saving time throughout the year.
--- HB 155, which would designate Florida cracker cattle as the official state heritage cattle breed.