Amazon Announces Plans for Jacksonville Distribution Center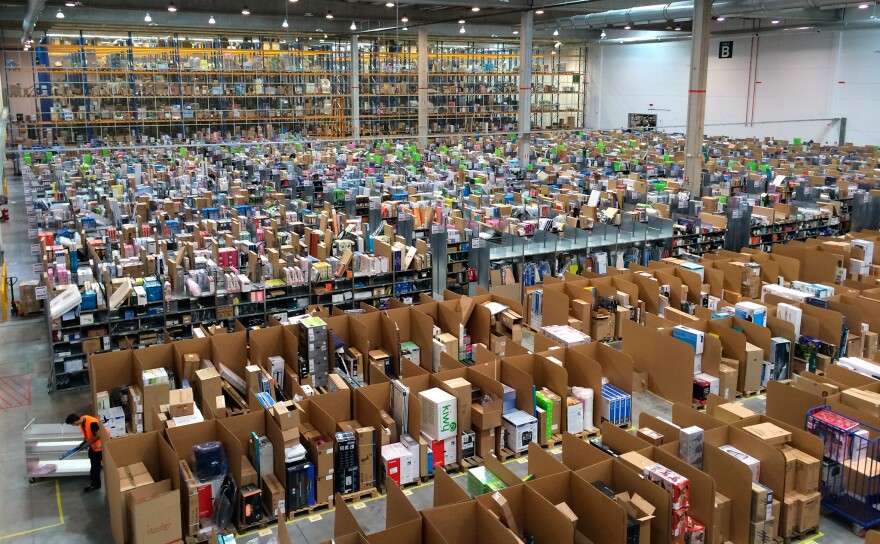 Amazon announced Wednesday morning Jacksonville will be the home of its new 800,000-square-foot distribution center.
The facility will be built on Jacksonville's Northside, near the airport.
Amazon's new fulfillment center is expected to create more than 1,500 permanent, full-time jobs, said JAX Chamber Vice President Jerry Mallot. Employees will be responsible for picking, packing and shipping small items such as books, electronics and consumer goods. Five hundred of those jobs will have salaries of more than $50,000 a year. Hourly wages range from $12 to $15.
In the past, Amazon has received some heat regarding the work conditions in its warehouses but Mallot said he "hasn't encountered" those issues.
"I think they have a really great understanding that they can impact the quality of our workforce in this country and in each city in which they operate in a positive way," Mallot said. "And they want to be a very enlightened employer."
Mallot said Amazon plans to employ mainly all Jacksonville residents in the new facility.
"We are excited to be bringing a new fulfillment center to Jacksonville, along with 1,500 full-time jobs," said DeAnn Baxter, Amazon spokesperson, in an email. "There are a lot of contributing factors that go into our thought process as we decide where to place a new fulfillment center. Most importantly, we want to make sure a fulfillment center is placed as close to the customer as possible to ensure we can offer a great Prime service and fast shipping speeds to customers."
The city enticed Amazon to Jacksonville with about $18 million in tax breaks, according to News4Jax. The economic impact on the city is expected to be about $200 million.
According to a news release, employees are offered programs like Career Choice, which will pre-pay 95 percent of college tuition. More than 7,000 employees have pursued degrees in areas like game design, IT programming and visual communications since the program launched four years ago.
"I am incredibly excited about the opportunities Amazon is bringing to our city, and specifically northwest Jacksonville — a community that will now serve as host to an international, state-of-the art fulfillment and distribution center," said Mayor Lenny Curry in a news release. "Their entry brings more than 1,500 new jobs, strengthens Jacksonville's position as a destination for international business, and contributes to increased economic development growth and improved quality of life."
The center is anticipated to be open in time for the 2017 holiday season.