UPDATE: Evacuation Order Lifted, Roads Open After Nassau County Fire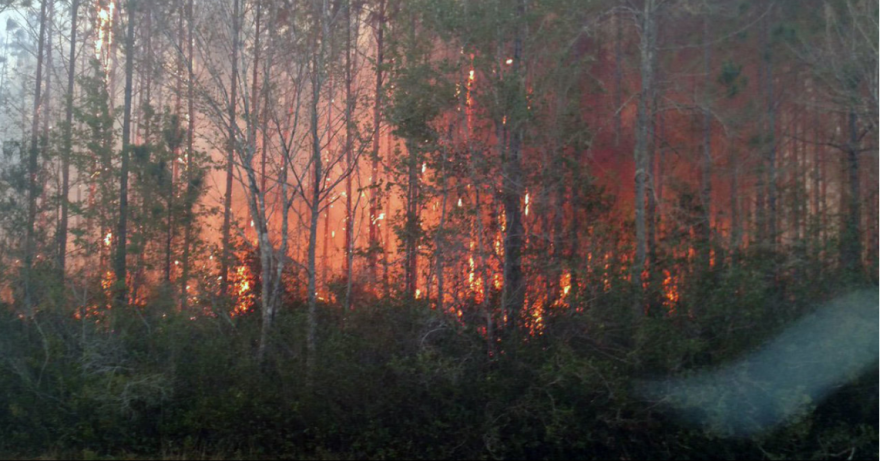 Updated 5:15 p.m.
BRYCEVILLE — An evacuation order for Bryceville residents has been lifted and all roads re-opened after a wildfire raged in Nassau County.
County Emergency Management Director Billy Estep said the fire is still burning in some areas, but crews are working hard to prevent it from spreading.
"We will continue to be doing a mop-up and hitting hot spots in the burn area, and reinforcing our plow lines and everything throughout the night," he said.
Since Wednesday, the blaze has burned through 696 acres, destroying two houses while damaging about 30 structures, Estep said.
Many Nassau residents still remain without electricity.
"As a result of the fire, there's been several power lines that have been brought down, so the Okefenokee Power Company is actively in there right now, swapping out poles, getting lines re-strung and trying to get the power restored as quick as we possibly can," he said.
Estep said the goal is to have power restored by the end of the day. He said the shelter at Bryceville Baptist Church will remain open tonight. If residents need help or need to reach the shelter, they should call the emergency hotline at 904-548-0900.
The fire was reportedly started when an area resident burned a box of books Wednesday afternoon near some woods, he said.
"Fortunately, the weather seems to be working a little bit in our favor right now. Our only real concern right now is the wind speed, and possibly these fires flaring up and scooting off across the woodlands pretty quick, which is what happened yesterday," he said.
The wife of the man who started the fire called 911 after the fire got away from him.
"It's burning everything. He can't get the hose to reach. Oh, my God. It's burning down dead grass toward other people," the woman told the 911 operator. "He shouldn't have been doing what he was doing. The damn woods are on fire, now."
Click here read the original story by News4Jax.
Contact Amy Hadden at newsteam@wjct.org or on Twitter at @AmyNHadden.
Editor's note: This article was updated with evacuation information, the number of structures destroyed and damaged, and an estimate on when power will be restored to the area.