The Jaxson: Artisan Food Trend Could Take Small-Time Producers Regional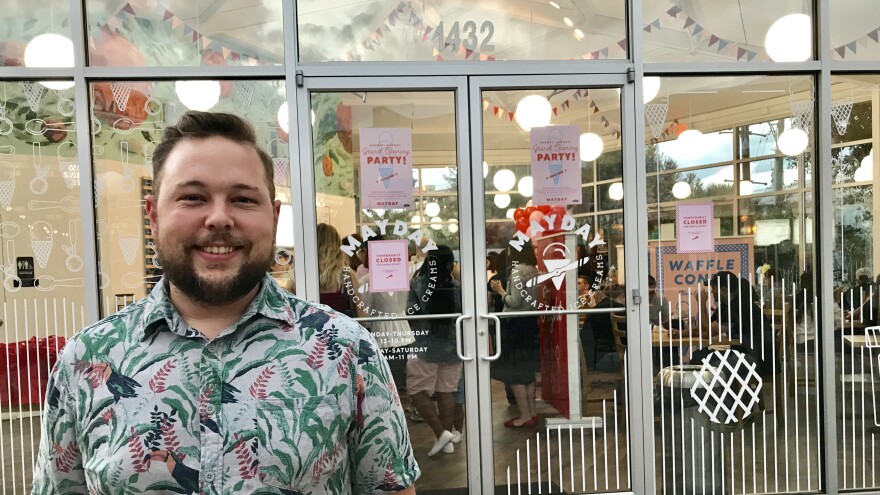 Artisan food is proving to be good business for a cluster of small-scale producers in the San Marco area.
The handcrafted food trend that's taking hold there could help propel those businesses beyond Jacksonville, according to Mike Field, co-founder of Modern Cities.
Field and I attended the grand opening of Mayday Ice Cream in San Marco. Mayday opened in mid-October after owner Stephen DiMare converted his former Hyppo pop shop next to the railroad tracks along Hendricks Avenue. Ice cream is an easier sell than ice pops, he said.
And it's not just any ice cream.
Mayday serves traditional, churned cream, which allows DiMare's team to infuse ingredients into it before it's frozen.
"All of our ice creams are aged, and we are steeping really amazing, high-quality ingredients in them and making really fun flavors," he said.
The menu includes coffee and donuts ice cream, made with donuts from nearby Good Dough and locally roasted coffee, as well as a lavender medley, a blackberry Early Grey, and a strawberry flavor with elderflower liqueur.
"The trend now is that consumers are being a lot more discerning with their food choices, and the numbers bear that out," Field said. He notes the stronghold that local coffee roasters and beer brewers have on the market nationwide.
All within a short walk from Mayday in San Marco are a new butcher shop, Cline's Custom Meats, as well as Aardwolf Brewing Co., and Bold Bean Coffee Roasters.
"They all kind of rely on each other in a way," Field said. "You have entrepreneurs that aren't just interested in growing their bottom line but creating a local food culture as well."
Field said combined, the foodie favorite brands could become a regional powerhouse, and potentially see themselves on grocery store shelves beyond Jacksonville, á la Jeni's Ice Cream.
For Mayday's DiMare, the next step will be expanding his offerings into local restaurants, he hopes.
"One of our big opportunities that we see is working with the chefs to create custom ice creams for a lot of our nicer restaurants and more authentic restaurants. So, the ice cream's not just like an add-on to what they're doing, but it can be an integral part of what they're doing," he said.