Big Talbot Island Dig: UNF Archaeology Students Find Artifacts Spanning 800 Years
University of North Florida Professor Keith Ashley and his students are excavating at Big Talbot Island in the Timucuan Ecological and Historic Preserve with the goal of finding evidence of an ancient Native American village. Not much is known about the place called Sarabay, which Europeans documented in the 1500s.
What the students didn't expect to find were Timucua items and artifacts dating back hundreds of years before that, as well as hundreds of years after the native population was severely depleted and plantations dotted the island.
"We don't think we're in the core of any of the villages or any of the plantation areas," Ashley said on Thursday. "But it's all overlapping on this area of land."
The group started digging at the site in early May. Since then, they've collected pottery, fish and animal bones, and beads for jewelry, all indicative of the Timucua people.
Some of the discoveries date back to 950 A.D., according to the archaeologists. Other items are from the 1200s to 1500s, when the French and Spanish arrived.
On a plot of private property within the preserve, pieces of glass, nails, and pipe stems date back to the late 1700s and early 1800s when settlers built large plantations on the marshy lands.
"In that era, all these areas around here were really big plantations," said UNF student Ejvind Sorensen. "In fact, one of the reasons why we have a lot scattered around is because when they plow, they'd actually plow over old artifacts and just spread them out around the entire area."
For many of the students, this is their first taste of an archaeological dig.
"This is fascinating to be out here," Sorensen said. "Being able to see this sort of stuff, being able to unearth a piece of pottery out of the ground that literally nobody has seen for over 1,000 years is completely fascinating."
For students from Northeast Florida, making the discoveries gives a different perspective on the land they've lived on since childhood.
"There is a totally other story there about the Native Americans that just doesn't get told," said student Kyle Moratz, from Nassau County. "That's kind of what we're seeing that makes me appreciate it more."
UNF student Ian King said, "I'm a little ashamed that we don't know more about it. I feel like no one really knows about the Timucuan Indians…I feel a little shame that I didn't know beforehand but happy that I know now."
The native Timucuan inhabited many areas of North Florida and some parts of South Georgia. One of the biggest villages was located along the south bank of Jacksonville's center. Some researchers believe the Timucua were the first natives to interact with Spanish explorers. As Europeans came over, the Timucua population declined dramatically due to fighting, enslavement and disease.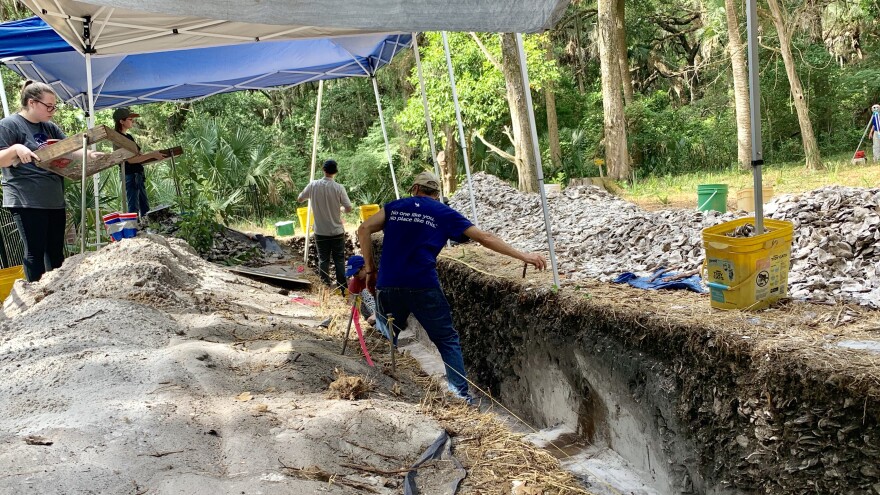 This summer, the UNF group is still looking for the exact location of the Sarabay village in order to answer questions, including whether or not the Timucua built walls around their villages and what their houses looked like and were made of.
While European texts document walls, questions remain as to whether the documents generalized native villages to be largely the same on the East Coast.
"We want to locate one of these areas and kind of test whether or not these features were really there," Ashley said. "Or if these were part of exaggeration, or a composite that Europeans kind of presented."
The group will continue its excavation over the next couple weeks, followed by some mapping and recording of the dig site.
For Ashley, there is joy in discovery, but also seeing a new wave of young archaeologists hungry to work and learn.
"They've worked really hard," Ashley said. "Once they get out here, I think some of the things we talked about in class really start to click when they can actually see what's going on and be a part of the practical experience."
Contact Sky Lebron at newsteam@wjct.org.