VIDEO: Exploring NE Florida's Big Talbot Island State Park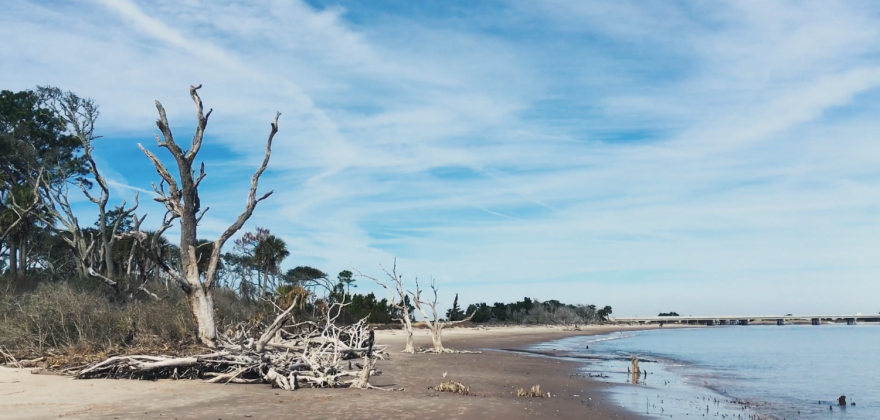 WJCT presents a collaboration between the University of North Florida's Environmental Center and Public Trust Environmental Legal Institute of Florida on 19 short videos showcasing the city, state and national parks of the First Coast, produced by Sean Lahav, a project leader in the environmental leadership program.
Big Talbot Island State Park
A local gem, Big Talbot Island State Park boasts thick maritime forests, open marshes, lazy creeks and beaches beaded with skeleton trees.
Hours: 8 a.m. to sunset
Description
Covering one of Northeast Florida's many sea islands, Big Talbot State Park hosts diverse habitats of marshes and maritime forests. In the area, it is famed for the Boneyard Beach, which is strewn with the salt-washed skeletons of live oak and cedar trees that have felled victim of coastal erosion.
Big Talbot Island State Park is home to a slew of shore, inland and marsh birds. Flocking to the marshes are endangered wood stork, egrets, ibis, osprey and herons. Along the beach reside black skimmers, terns, piping plovers and brown pelicans. Inland are doves, woodpeckers, painted buntings and barred owls.
The preserve is part of several natural zones that collectively make up the Talbot Islands State Parks: Pumpkin Hill Creek Preserve State Park, Amelia Island State Park, Little Talbot Island State Park, Fort George Island Cultural State Park, Yellow Bluff Fort Historic State Park and George Crady Bridge Fishing Pier State Park.
History
Named after Charles Baron Talbot. For centuries, the Big Talbot Island was home to the Timucua, Florida's most ancient inhabitants. By the 18th century, however, as European settlers poured into the region, Timucua had perished but vestiges of its existence bead the island as shell middens, piles of oyster shells and food residues.
Amenities
A boat ramp allows access to the Intercoastal Waterway, the Nassau Sound and the Atlantic Ocean. Within the area, Kayak Amelia offers numerous kayak and canoe options, from rentals to guided tours. It also rents bikes.
The Bluffs as well as George Crady Bridge Fishing Pier offer spots suitable for fishing. Fishing on boats and canoes is also allowed.
A picnic area is available at the Bluffs.
Activities
Big Talbot Island State Park is ideal for bird watching, photography, hiking, boating, fishing, kayaking and picnicking.
While sunbathing on the beach is prohibited, wading in and swimming is OK. Yet, pay attention to the warning flag signs.
If one comes armed with a GPS device, opportunities for geo-seeking, a treasure hunting game, are also available, including one of Florida's oldest caches, Big Pine Cache.
Trails
Blackrock trail leads to the shoreline through the maritime hammock
Shoreline trail leads to the shoreline at Nassau Sound and Boneyard Beach
Big Pine trail ventures to the salt marshes along Simpson Creek
Old Kings Highway and Jones Cut pathways meander through the maritime woods and reveal the past of the island
Timucuan trail is a 2.9 mile off-road paved multi-use trail that runs parallel with A1A. This trail is wheelchair friendly
Best Time To Visit
The best time to enjoy the coastal areas of Big Talbot State park is at low tide, as high tides often submerge the beach.
Advice
When boating on your own, do not forget to submit a float plan to the park and carry proper communication and safety equipment.
When swimming, pay attention to the warning flag signs that indicate the conditions at the beach. Double red flag means swimming is not permitted, and a yellow flag advises caution. Green means that the water is safe. A purple flag indicates the presence of marine pests.
Parking
Parking is available at several locations: to the north at the Boat Ramp, at the Bluffs picnic zone, and on the eastern side of A1A, where the Blackrock and Big Pine trails commence, at the Kayak Amelia facilities.
Admission Fees, Rules
George Crady Bridge Fishing Pier: $2 per person
Bluffs picnic area: $3 per person
Blackrock and Big Pine trail heads $4 for the boat ramp
Fees are collected in the honor box at the entrance, where exact change is required. Vehicles are limited to eight people.
Location
Big Talbot Island State Park is located some 20 miles northeast of downtown Jacksonville, along A1A north.
Directions: Driving north on I-95, via Heckscher Drive: Take exit 358A for FL-105 / Heckscher Drive toward Zoo Parkway. Merge and stay on FL-105/Zoo Parkway for about 15 miles. After crossing the Beltway, the road continues as Heckscher Drive. Follow Heckscher Drive for six miles before you reach Big Talbot Island State Park.
Dima Vitanova can be reached at dima93vitanova@gmail.com and Vince Kong can be reached at vkong@wjct.org