Groundwork Jacksonville Gets $30K Grant For Construction Of Emerald Trail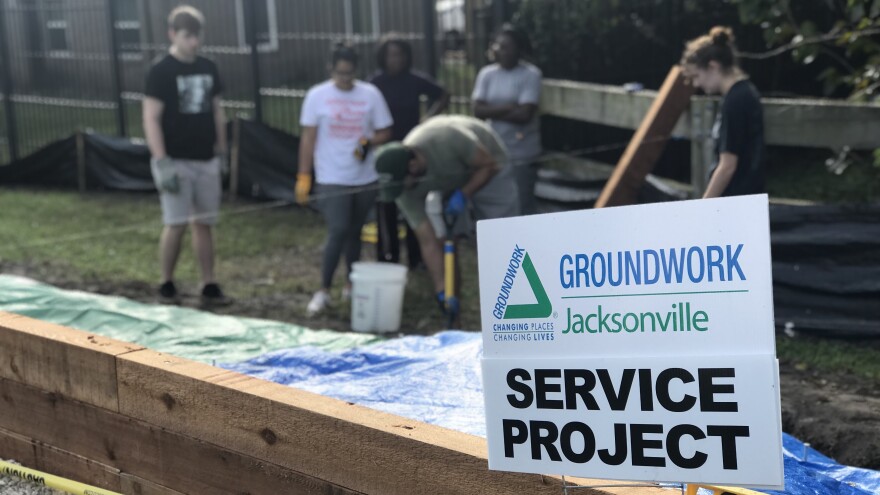 Groundwork Jacksonville is getting a $30,000 grant to build the first segment of the Emerald Trail, a planned 30-mile urban trail system around Downtown Jacksonville.
Groundwork Jacksonville is a nonprofit founded to clean and redevelop the city's Emerald Trail and convert contaminated land into parks, playgrounds, trails and other public greenspace.
Once it's finished, the Emerald Trail will circle around Jacksonville's urban core and link historic neighborhoods to Downtown, Hogans Creek, McCoys Creek, the S-Line Trail, and the Northbank and Southbank river walks.
"We will have an exemplary urban trail system," said Groundwork Jacksonville Program Manager Shanell Davis-Bryant. "This is going to connect schools, connect parks, all in corridors where you won't feel too worried about letting your kid go to the park because you know it's going to be mostly off road. The crosswalks are going to be well labeled and lighted, and it's going to be a safe pathway for adults and for children to bike and walk."
Related: City Council Approves Jacksonville Emerald Trail Master Plan
The money is coming from the Washington nonprofit Rails-to-Trails Conservancy's 2020 Doppelt Family Trail Development Fund.
"The competitive Doppelt Fund grants bring regional trail projects to fruition that otherwise would never have been possible," said Ryan Chao, president of RTC. "There are no other grants offering resources to communities like the Doppelt Fund. These funding sources are critical because the projects tend to be overlooked in traditional funding streams but deliver tremendous impacts to a community and the nation."
Groundwork Jacksonville was one of six recipients this year, which were chosen from a pool of 170 applicants.
"This year's projects will deliver a lasting return on investment for decades within their communities," said Jeff Doppelt, a philanthropist from Great Neck, New York. "The rails-to-trails movement is gaining momentum across the country, and these projects are leading the way as examples of regional trail projects that can spark community transformation."
Brendan Rivers can be reached at brivers@wjct.org, 904-358-6396 or on Twitter at @BrendanRivers.