Dueling Protests In Palatka Over Courthouse Confederate Statue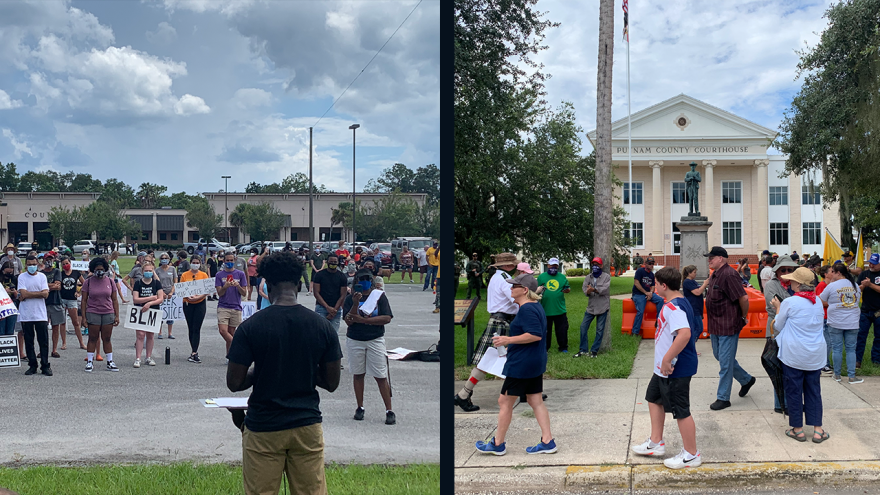 The potential relocation of a Confederate soldier monument outside the Putnam County Courthouse continues to be hotly debated among the community, and beyond.
On Saturday, two large rallies with opposing views were held in the county seat of Palatka, drawing some protesters from outside the largely rural county to support the two movements.
At the Putnam County Government Complex, activists DarNesha Leonard and Tevel Adams hosted a rally in support of the monument's relocation.
"This monument has shown the hidden truth of Putnam County and all over this country," Leonard said to a crowd of a few hundred. "This monument has shown the true hatred that many people harbor in their hearts. This monument has made people forget their humanity and the compassion that you're supposed to have for others."
At a Putnam County Commission meeting last month, the activists laid out a plan to move the monument to Westview Cemetery, where other local soldiers are buried. The location is a few blocks southwest of its current location.
After hearing the suggestion, which has the support of Palatka Mayor Terrill Hill, the commissioners said they needed time to talk to members of the community and potentially put it to a public vote — something the activists oppose.
"This is a huge decision, and it wouldn't be a fair vote considering the statistics of Putnam County...I feel like this is something that the county commissioners should be the one to decide on," Adams said. While the city of Palatka has a pretty equal population of white and Black residents, the entire county was 80.3% white, at last  U.S. Census count.
"We claim to be one Putnam. We claim to be 'Putnam proud.' But it seems like we are a county divided," Adams said to the crowd.
That division was clear a quick drive down Reid Street, where a few hundred were gathered outside the county courthouse in front of the monument.
Their goal is to keep the monument outside the courthouse, or at least put it to a public vote.
"I'll do everything legally that I can do - believe me - to try to stop the removal of our memorials," Seber Newsome told the crowd of supporters.
Newsome, from Yulee, has advocated for similar monuments throughout Northeast Florida.
Referring to the recently removed Hemming Park Confedrate monument in Downtown Jacksonville, he said, "[Jacksonville] Mayor [Lenny] Curry did this thing in the middle of the night and took our [monument] down. Well, Mayor Curry's career is over. His political career is over in North Florida. I guarantee that."
The Putnam County Courthouse monument is of a generic Confederate soldier, and it was erected by the United Daughters of the Confederacy in 1924. It stands about 20 feet high.
On one of its sides, a phrase etched in the stone says "The principles for which they fought will live eternally."
The anti-monument protest zeroed in on that phrase, calling it a message of hate.
"They created a new government to protect their ideals, one of which was slavery and the unequal treatment of African Americans," Leonard said. "It was a foundation, a cornerstone of this new government. Is that what many proud Americans are fighting to keep? Is this the principle you apply when you fight to keep those monuments?"
But Luis Miguel, who is part of the North Florida Patriots and organized the pro-monument courthouse rally, said that message is misconstrued.
"All of us who are here are fully in favor of our African American brothers and sisters," he said. "We're more than happy to help them with monuments and things to honor their rich history as well, and would love to see more of that. We just don't believe that you should be at the same time tearing down other people's history."
Miguel said people across Northeast Florida are "building bonds of community" to show strength and support for the monuments.
Miguel said. "A lot of people have Confederate banners. People aren't interested in slavery. People aren't interested in any of those racist things from the past that we reject."
When he heard that the opposing rally was originally set to be at the courthouse as well but was moved downt the street to avoid conflict, he said, "We don't think that there was necessarily any need for that. We're more than happy to share public space and form with people so everybody can share their views."
Adams, however, said he didn't want any potential problems to get out of control.
"We don't want to see what happened in other cities in America happen in Putnam County and in Palatka," Adams said.
On the official Facebook event page for the courthouse rally, it stated the group needed to band together and not let others "terrorize the Putnam County Courthouse."
"We need every able-bodied patriot there," the event details read. "With each battle, we grow stronger!"
Sky Lebron can be reached at slebron@wjct.org, 904-358-6319 or on Twitter at @SkylerLebron.