New Eco-Counter Tracks Pedestrians, Bike Riders Using Jacksonville Parks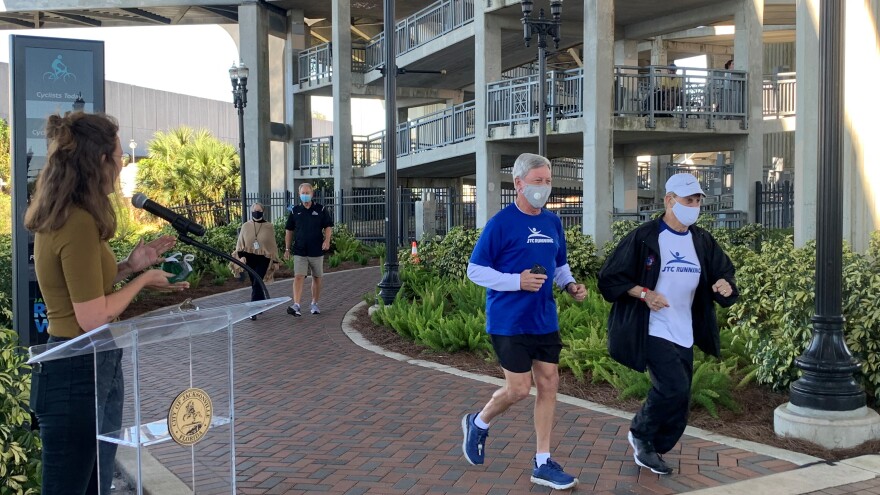 Jacksonville's Corkscrew Park is becoming the first in the city to count people walking and biking to show how busy it's been.
City officials and bike and walking enthusiasts dedicated a new "Eco-Counter" at the park located right under the Acosta Bridge, which will display how many people have walked or biked by throughout the day, and how many total have done so throughout the year.
"Data is something we have been sorely lacking from a bicycle [and] pedestrian standpoint downtown, not only on our trail systems, but also on our public streets," said Lori Boyer, the CEO of Jacksonville's Downtown Investment Authority.
Boyer and other city officials said that the data tracked using the eco-counter will make the process a lot easier when determining the bike and foot traffic for a specific area.
"Oftentimes, we're applying for grants, and we have to provide numbers and data to document the need for the improvements that we're going for," said Daryl Joseph, the director of the Parks, Recreation and Community Services department for the city.
Joseph said there are already five other mobile versions of the eco-counter at parks throughout the city, with plans to add more. The current kiosk is located on the Northbank Riverwalk.
"We have a Southbank Riverwalk, so providing that connection, we can actually learn something as to how many that use the Northbank compared to the Southbank," Joseph said.
The Corkscrew Park kiosk was bought using donated funding from JTC running. President Larry Roberts said the idea started when thinking about the importance of data for the city, as it considers where to spend money and resources to improve certain parks.
"This records automatically 24/7, 365 [days], providing data on bikers, runners and walkers," Roberts said. "That's great for analysis." Although Roberts mentioned runners and walkers separately, the Eco-Counter doesn't differentiate them. Both are counted as pedestrians.
Roberts said that analysis could turn into better development for the downtown area.
"It's critical for development," Roberts said. "Businesses want to locate in areas where you have pedestrian traffic. So there's a lot of synergy here."
Roberts said JTC events, like the Gate River Run and the Emerald Trail 5K Run, Bike and Walk - which is being held this weekend - helps fund projects like the eco-counter.
In a press release, city officials said the eco-counter will help create a ridership baseline, which can ensure investments in certain areas, with a goal of improving walking and biking trips by 10% by 2030.
Sky Lebron can be reached at slebron@wjct.org, 904-358-6319 or on Twitter at @SkylerLebron.