Jax Berkman II Skyline Eyesore To Be Demolished; New Development To Follow
Demolition is set to begin in about three weeks on the unfinished residential tower known as the Berkman II on Downtown Jacksonville's Northbank, with crews already onsite to start the process.
The city recently condemned the building after years of failed attempts to look for a buyer. But now, a company called Jacksonville Riverfront Revitalization (JRR) has agreed to purchase the building and redevelop it into townhomes with retail space on the ground floor.
Jacksonville Mayor Lenny Curry said the sale of the building is a big step towards transforming the city's skyline.
"[Jacksonville Jaguars owner] Shad Khan famously said — infamously, or famously, because he was right — many years ago when he came here that that looked like a bombed-out building in another country. And we've been working for years to get that building down, and now it's happening," Curry said. "We continue to do what we can to fundamentally transform our downtown for the better."
JRR co-managing member Park Beeler told WJCT News partner the Jacksonville Daily Record his company reached an agreement to buy the Berkman II for about $5.6 million from owner 500 East Bay LLC. Curry confirmed Tuesday that JRR has placed money in escrow to buy the property.
According to publicly available business records, JRR was incorporated in September 2020. It is registered to Wayne Flowers, an attorney with Lewis Longman & Walker (LLW). Flowers served as the general counsel for the St. Johns River Water Management District from 1988 to 1996, and now acts as chair of LLW's work representing electric utilities.
The mayor said he's not prepared to announce what will replace the empty building, but City Council Member Reggie Gaffney told WJCT News that he will unveil renderings of the new development as soon as this week.
"Thirteen long years of trying to solve a puzzle, a puzzle of who's going to redevelop that property," Gaffney said. "This is not a drill; this is for real. We're really finally going to have something that's going to be nice for the city of Jacksonville."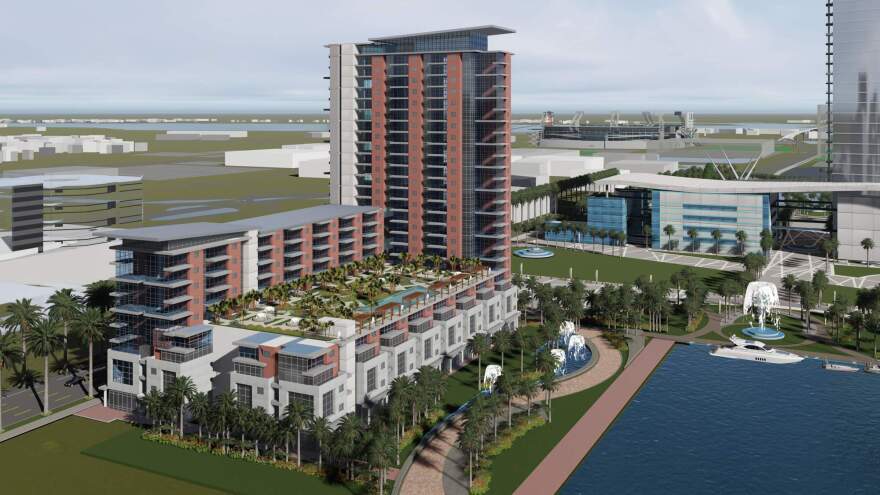 Jacksonville Riverfront Revitalization previously released a rendering in January. The specifics may have changed, but Gaffney confirmed that the development plan he has seen will contain residential units, retail and green space.
During its construction in 2007, the Berkman II's parking garage collapsed, killing a construction worker and injuring several others. Construction was permanently halted as a lawsuit was filed against the original owners and the country then fell into an economic recession in the years following.
Contact Sydney Boles at sboles@wjct.org, or on Twitter at @sydneyboles.