Jacksonville City Council Members Closer To Consensus On New Voting Districts
Five of the city's council members OK'd the latest draft of Jacksonville's redrawn voting districts on Wednesday, and at least six more council members will take up the map Thursday afternoon. The new maps are set to take effect by next April.
That's as this week, Councilman Garrett Dennis filed legislation that would phase out Jacksonville's five at-large council seats by 2030. At-large council members are elected to represent all of Jacksonville but must live in one of five geographic zones.
Following Tommy Hazouri's death earlier this month, all four of the sitting at-large council members are Republicans. Councilman Dennis, who is a Democrat, said his goal for tossing the at-large council seats is to save the county about $800,000 a year on salaries.
"It is my goal to give the opportunity to help eliminate government waste by cutting the size of government and save taxpayers millions of dollars." Dennis said in a statement.
Council member Danny Becton, who represents District 11 and is losing the largest number of voters during the current redistricting process, declined to comment on Dennis' proposal when asked after Wednesday's redistricting meeting.
"One controversy at a time here," Becton told WJCT News. "This is enough today, right?"
Redistricting can be fraught, as it determines how political power is distributed for the next decade. City Council currently has a GOP supermajority, as just six of the 19 council members are Democrats. In contrast, 42% of Duval County voters are registered Democrats and 39% are registered Republicans.
Thus far in the redistricting process, council members have most commonly used the term "communities of interest" to describe how they prioritize what neighborhoods to keep together and what neighborhoods to split apart in the redrawing process.
Becton, who is heading up City Council's redistricting committee, said this term refers to communities that would have the same interests in terms of infrastructure, parks and libraries around their homes, not political affiliation.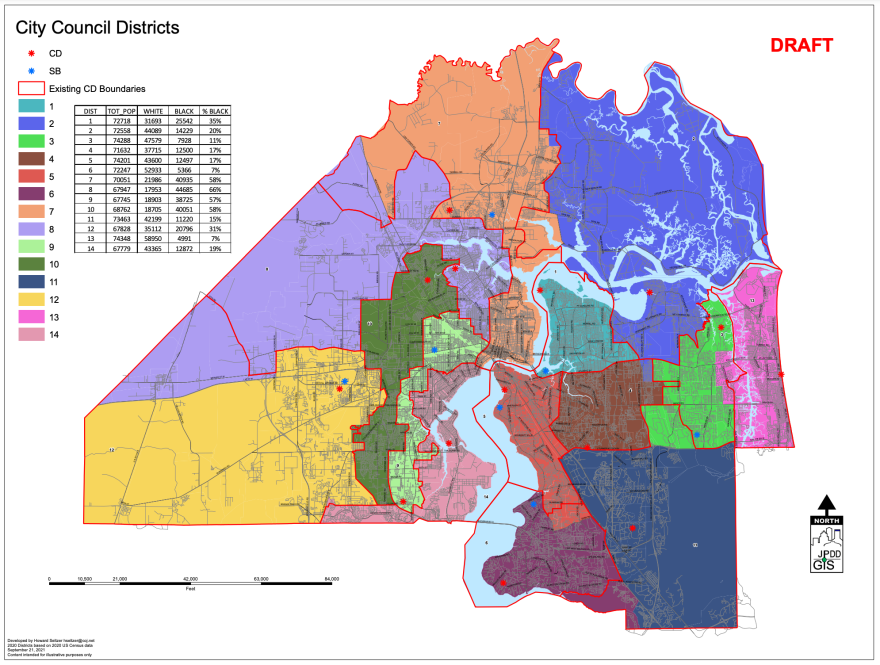 In the latest draft map, Becton's District 11 is redrawn to exclude the University of North Florida. The area immediately surrounding UNF would be moved into Aaron Bowman's District 3. Becton said change "had absolutely zero to do with party affiliation," though he added, "It's not illegal to have that consideration."
Philip Miner of the Democratic Women's Information Network said partisan politics likely play a role in council members' decisions during the redistricting process — even if it's not openly acknowledged.
"The reality in the country is that too often, unintentional consequences do result from a so-called innocuous process," Miner said following Wednesday's redistricting meeting. "In this very, very partisan environment it's hard for me to believe that there's not going to be a priority consideration for voting strength."
The latest draft of the new voting districts splits the county into 14 council districts of about 70,000 people apiece.
Councilmembers from Northside and Westside of Jacksonville will take up the latest map draft Thursday at 1 p.m. The proposal moves the town of Baldwin out of District 12, currently represented by Republican Councilman Randy White, and into District 8, represented by Democrat Ju'Coby Pittman.
Contact Claire Heddles at cheddles@wjct.org, (904) 250 - 0926, or on Twitter at @claireheddles.