With Investigations Over, Some El Faro Recommendations Could Need Congressional Approval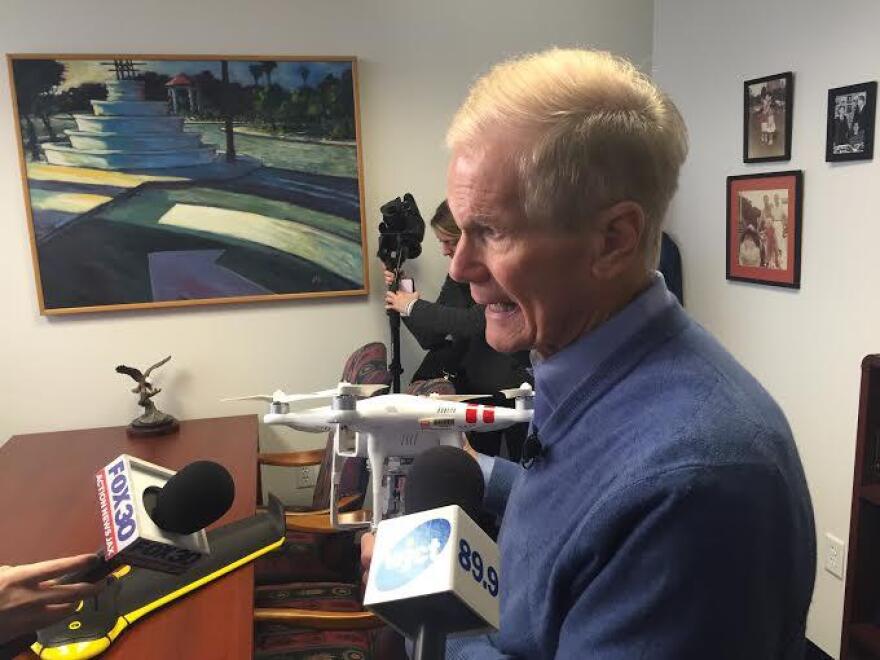 U.S. Sen. Bill Nelson is still reviewing a new federal report recommending changes to the shipping industry, two years after cargo ship El Faro sank.
At least one major safety recommendation may require federal legislation.
The National Transportation Safety Board Tuesday released more than 50 recommendations after its two year, 30,500 hour investigation into the ship's sinking.
Perhaps the single most impactful one is the removal of an exemption from lifeboat regulations that companies with older ships currently benefit from — around 40 ships are operating with open lifeboats. Both the Coast Guard and NTSB want enclosed, self-propelled ones to be the industry standard, no matter the ship's age.
A law requiring the newer lifeboats was passed after the sinking of another ship — the Marine Electric. But it included an exemption of ships built well before the measure's passage.
The brother of El Faro seaman Jack Jackson, Glen, told WJCT in October he wants to see federal legislation filed sooner rather than later.
"Again the problem here is the Coast Guard can recommend things be done, but unless Congress has the will to ensure the safety of seafarers, nothing will change," he said.
Florida's Democratic senator has been a consistent voice in D.C. for reforming the shipping industry since the freighter's sinking. He met with families, including Glen Jackson's sister, Jill Jackson-d'Entremont, on Wednesday.
Met with family members of the sailors lost on the El Faro today to discuss the NTSB's latest report on the incident and what can be done to make sure another tragedy like this never happens again. pic.twitter.com/45y9e24535

— Bill Nelson (@SenBillNelson) December 13, 2017
In an email, Nelson told WJCT News he's still assessing which recommendations will require legislation, but has said in the past he would sponsor a bill banning a freighter from departing ports if a hurricane is projected to intersect with its route.
However, the NTSB found that El Faro Captain Michael Davidson's departure from Jacksonville in October of 2015 wasn't quote "unreasonable." His decisions not to adequately change course at sea was ultimately responsible for the ship's demise.
Nelson said the shipping industry could be doing more to safeguard against tragedies similar to El Faro's, which took the lives of 33 mariners.
"There needs to be a better process in place to ensure that the captain and crew have the most up-to-date and accurate information as possible when making decisions during extreme weather events," he wrote. "We also need to make sure companies are providing their ships the support they need during these extreme situations and that everyone in the chain is accountable."
The NTSB concluded its final meeting into the ship's sinking by blaming the captain for his decision making at sea and his employer, TOTE Services for not adequately supporting the crew and creating an environment of "inherent" pressure for ships to deliver cargo on time.
Both the NTSB and Coast Guard also found that an inspection program, called the Alternate Compliance Program, routinely missed vessel deficiencies. The APC was implemented in the mid-1990s, effectively outsourcing some Coast Guard safety inspections to third-party ship classification societies, like the American Bureau of Shipping.
During Tuesday's NTSB meeting, investigator John Furukawa told the board he and his team reviewed 15 ships inspected through the APC and found that all of them had varying degrees of discrepancies. Last February, a Coast Guard captain John Mauger told the Marine Board of Investigation his Marine Safety Center reviewed a tiny number of inspections conducted by third-party groups.
In 2014 alone, Mauger said out of 11,000 inspections, the Coast Guard reviewed 5 percent. Of that tiny fraction, 38 percent of ships had discrepancies. From 2012 to 2013 the percentage of discrepancies averaged 16 percent.
"It is clear from both investigations that this is clearly an issue that needs to be addressed. There's no reason why we shouldn't be able to identify vessels with deficiencies and require that they be fixed," Nelson said.
It's not clear whether the Coast Guard could implement recommendations, like the lifeboat requirement, through agency rule changes. The final Coast Guard report is still awaiting the commandant's final approval. He could accept, reject or partially accept any of the Marine Board of Investigation's 49 recommendation.
Reporter Ryan Benk can be reached at rbenk@wjct.org, 904-358-6319 or on Twitter @RyanMichaelBenk