Duval Dishes: 6 Restaurants That Embody Their Jacksonville Neighborhoods
WJCT asked our social media followers which Jacksonville restaurants are the most quintessential to these areas: Northside, Westside, Urban Core, Arlington, Southside and the Beaches.
According to voters, these are the restaurants that best embody the spirit of their neighborhoods:
Northside Winner: Blue Boy Sandwiches (6514 Norwood Ave.)
https://www.youtube.com/watch?v=BGh3xWhTjOc" target="_blank">https://www.youtube.com/watch?v=BGh3xWhTjOc
What Voters Said: "Big, delicious sandwiches."
Blue Boy's slogan, "One sandwich, One meal," is no exaggeration. As one survey respondent put it, "You'll end up taking part of it home with you if you're not super hungry."
Blue Boy has been operating since 1972, when current owner Chris Teschke's parents purchased the building from a man who went by the name — wait for it — Blue Boy. The Teschkes, German immigrants, decided their sandwiches would draw from their own heritage but with an Italian twist. Blue Boy Sandwich Shop has been serving burgers and subs on homemade bread to its hungry customers for 46 years.
The menu features classics like the Cuban alongside unique offerings like the PizzaBurger, Camel Hopper and the Big Daddy, a monstrous hamburger made of three 4-ounce patties, mushrooms, cheese and eggs on a large piece of homemade bread drizzled with barbeque sauce.
Westside Winner: Harp's American Pub and Grill (4070-9 Herschel St.)
What Voters Said: "Great food! Not a cookie cutter restaurant."
"Food is fresh, cooked properly and a fair price."
"American fare with a flair. Top notch eats right here."
"Great food and friendly staff."
Harp's, formerly called Harpoon Louie's, was established more than 30 years ago in the Ortega area. Harp's was recognized by Florida Times-Union readers for Best Cheeseburger in 2012. Today Harp's still uses all natural ingredients to craft handmade burgers, like The Carolina, which features slow-roasted pulled pork and a pickle.
Vegetarians and vegans can find something at Harp's too, including a vegan barbecue sandwich and several veg burgers. One of 20 beers on tap can help wash all those patties down.
Southside Winner: Tommy's Brick Oven Pizza (4160 Southside Blvd.)
https://www.youtube.com/watch?v=ZF1Md9pmq1Y" target="_blank">https://www.youtube.com/watch?v=ZF1Md9pmq1Y
What Voters Said: "It has the best pizza in town."
Tommy's was founded by New York City natives who lived in Europe for five years, and they're bringing the combination of those flavors to Jacksonville's Southside. Traditional Italian-style pizzas are baked in a brick oven along with authentic cuisine like stromboli and calzones. Twenty-four beers are offered on tap or in bottles.
Urban Core Winner: The Fox (3580 Saint Johns Ave.)
What Voters Said: "Classic diner where blue hairs have yummy breakfast with blue-haired hipsters."
"It's eclectic with great food and even better people."
The Fox Restaurant has been serving up classic diner fare for breakfast, brunch and lunch for nearly 18 years nestled among the pedestrian-friendly Shoppes of Avondale. Breakfast classics like pancakes and omelettes are available alongside unique sandwiches like the Larry David, a turkey creation with coleslaw and Russian dressing. Oy, that sounds good!
Urban Core Honorable Mention: Community Loaves (1120 Edgewood Ave S.)
What Voters Said: "It's local people who live in the neighborhood making excellent food with love."
Community Loaves started as a delivery service before opening its popular breakfast and lunch spot in Murray Hill. From its website: "We are an organic bakery... Tuesday through Sunday we bake sourdough bread and fresh pastries using traditional techniques and seasonal, local produce. We currently deliver fresh loaves on Wednesdays, Fridays, and Sundays to local grocers Grassroots and Native Sun."
Beaches Winner: Cinotti's (1523 Penman Road, Jacksonville Beach)
What Voters Said: "The best bakery in all of Jacksonville and has delicious breakfast and lunch. A true local gem."
"A family-run business that I remember from my childhood that's still around!"
Though its delicious desserts certainly can function as a whole meal, the uninitiated might be surprised to learn Cinotti's also serves breakfast and lunch, including deli favorites and even hamburgers. The bakery on Penman Road opened its doors in 1990, but the Cinotti family has been baking and selling their treats since the 1950s. Well known for their pumpkin donuts, Cinotti's offers a wide selection of baked goods including custom cakes and assorted cookies.
Beaches Honorable Mention 1: North Beach Fish Camp (100 First St., Neptune Beach)
What Voters Said: "It can be dressed up or down but serves delicious food."
From its website: The owners of the fine-dining spot Marker 32 and Palm Valley Fish Camp, Ben and Liza, opened North Beach Fish Camp in Neptune Beach in 2012. North Beach Fish Camp is Palm Valley's sister restaurant, mirroring a creative menu, spectacular view, and inviting atmosphere… What's more, our second story space is a great spot to enjoy a cool beverage while checking out beautiful Neptune Beach."
Beaches Honorable Mention 2: Singleton's Seafood Shack (4728 Ocean St., Atlantic Beach)
What Voters Said: "Long history, great view, good food."
"It's a perfect blend of old Florida, beach and fresh seafood."
What reviewers have said about Singleton's on its Facebook page:
"The best Mayport Shrimp around! The service is always spot on. Fun fish camp atmosphere. One of my favorite spots!"
"We eat here about once a week. Best view in the world for sunsets, great service, as well as the freshest seafood possible. Owner and manager very personable and do their best to accommodate. Been eating here for many years-used to come with my parents!"
"Adore the rustic atmosphere. Friendly, helpful staff and delicious fresh seafood. A must for those visiting the area."
Arlington Winner: Bono's Pit Bar-B-Q (8011 Merill Road)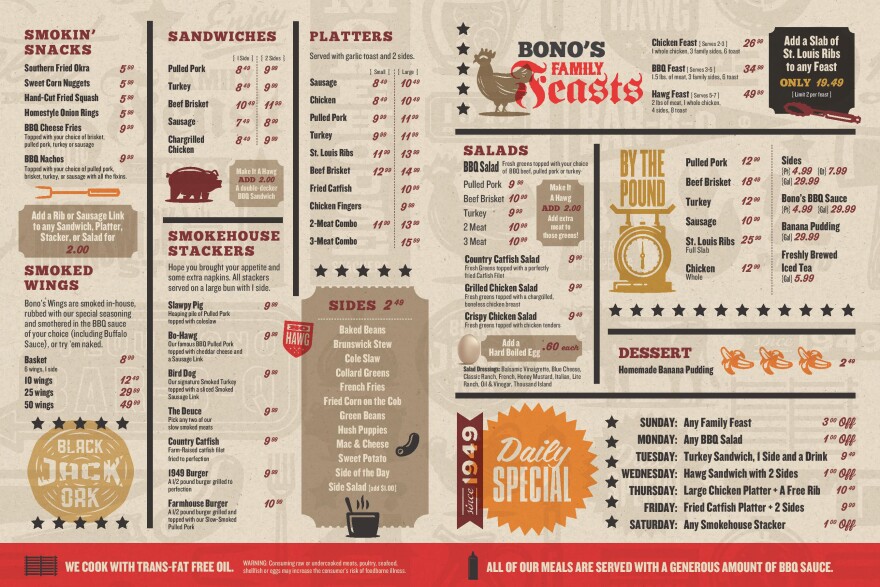 Note: Bono's declined to allow filming inside one of its restaurants.
What Voters Said: "Good BBQ"
Bono's Pit Bar-B-Q is a local chain that has been a staple in the Jacksonville area since 1949. Bono's franchises serve Southern cooking while upholding the mantra "If you don't see a pit, it ain't legit." Bono's offers copious selections of meat paired with authentic sides like collard greens, baked beans and the critically important macaroni and cheese.