Latest Local Newscast from WJCT News 89.9
Latest National Newscast from NPR News
NPR News: 09-23-2023 9AM EDT
NPR News: 09-23-2023 9AM EDT
Dive into the heart of Northeast Florida with
First Coast Connect
. This captivating weekday call-in program brings you face-to-face with the region's movers and shakers, from community leaders and local artists to standout event planners. Engage in vibrant discussions and delve into the week's hottest topics with our exciting Friday Roundtable, featuring a dynamic mix of local media personalities and civic luminaries. Tune in, connect and become part of the community conversation.
Weekdays live at 9 a.m.; Rebroadcast at 8 p.m.
Our media panel discussed the $2 billion development plan in Downtown Jacksonville, another death at the Duval County jail and the appointment of Michael Fackler as general counsel. Also, we preview the Jax Book Fest.
What's Health Got to Do with It? is an engaging weekly talk show hosted by Dr. Joe Sirven, a renowned physician and medical journalist. The show navigates the intricacies of the healthcare system, offering insight into treatment access, insurance coverage, and maintaining good health. Each episode, centered around a specific topic, dives into compelling healthcare stories and explores solutions for healthcare challenges. The program encourages active listener participation, fostering a community that is locally-focused and solution-driven on healthcare issues.

Saturdays at 4 p.m. and Sundays at 9 p.m.
What's Health Got to Do with It?
"Interventional psychiatry" is a cutting-edge field that bridges the gap between traditional therapy and medical interventions.
What's Health Got to Do with It?
What's Health Got to Do with It?
What's Health Got to Do with It?
Each week, Danny Rivero of WLRN in Miami, along with a panel of journalists from around the state, discuss the week in Florida news on the
Florida Roundup
.
Ways To Connect
Pandemic-era federal funding for child care centers set to run out by the end of the month. We look at how those funds have been used. Plus, we talk about the looming federal government shutdown and what it means for Florida. And later, how a South Florida hockey team is fostering a generation of female players.
Immerse yourself in the rhythm of Jacksonville with the Jacksonville Music Experience (JME). Brought to you by WJCT Public Media, JME is your passport to an eclectic musical journey. From unique radio stations to curated playlists, live events, and insider insights - discover, explore and fall in love with Jacksonville's dynamic music scene through JME.
The music of Singaporean artist and producer yeule often sounds like it was made from turn-of-the-century home electronics — dial up modems, simple keypad tones or a broken VCR. But, in deceptively disarming moments, it's also warm and beautifully organic, just before erupting in thunderous sheets of guitar noise and primal screaming. As we discuss on this week's show, their ...

When it comes to the confused emotions of '90s underground rock as it rose (or was pulled) up into the mainstream, never mind Nirvana: it was arguably The Breeders that truly expressed the confusion, joy, snark, resignation and expectations of a pre-internet Generation X. Thirty years have passed since The Breeders' breakthrough release, Last Splash, and the album's sound and ...

Each week, WJCT Arts & Culture editor Matthew Shaw joins Al Letson on First Coast Connect to talk about three new songs added to rotation on the Independent 89.9 HD4, WJCT's new-music discovery station. On this week's JME DJ Sessions, they listen to cuts from Mitski's new record, The Land Is Inhospitable and So Are We and discuss the late, ...

Judging by the music of the Serfs, the band's hometown of Cincinnati, Ohio is a destroyed, post-industrial wasteland. While they are retro to the point of the antediluvian, the trio of Dylan McCartney (vocals, percussion, guitar, bass, electronics), Dakota Carlyle (electronics, bass, guitar, vocals) and Andie Luman (vocals, synths) enshroud their latest single "Electric Like an Eel" into more of a post-punk ...

In the mid-1960s, saxophonist John Coltrane was experiencing an undeniable evolution. Having the ability to perform slow-burn ballads and high-speed changes with equal agility, he had spent the previous decade establishing himself as a firebrand soloist with Miles Davis and Thelonious Monk. As Coltrane's compositional skills increased, so did his prolificity as a bandleader. After signing with the label Impulse! ...

This Latinx Heritage Month Tiny Desk is celebrating with an 'El Tiny' takeover, featuring a wide array of artists from all corners of Latinidad. No Venezuelan party is complete without tequeños. Whether it's a wedding or a baptism, the cheese-filled treats are a must-have at every snack table — so it makes sense Rawayana pulled up to "El Tiny" with ...

2021 was not, technically, the first year Allison Russell played the Newport Folk Festival. Russell had previously taken the stage at what's long been a venerated showcase of bearers and updaters of tradition with her bands Birds of Chicago and Our Native Daughters, but never before as a solo artist. And never with as bright a spotlight as the one ...

After first teaming up for 2022's Full Court Press, the low-key hip-hop supergroup featuring emcees Wiz Khalifa, Big K.R.I.T. and Smoke DZA, and producer Girl Talk (aka Gregg Gillis) have returned with their first new music of the year, Tuesday's effortless "Eurostep." To a casual basketball viewer, the Euro step seems almost unfair, like the ball handler is getting away ...

Eureka Springs have released their second single, a downtempo, jangly meditation called "The Mirage." Some housekeeping first: Eureka Springs is the full-band project of Jacksonville singer-songwriter Cory Driscoll, whose 2022 album is also called Eureka Springs. Driscoll also has a song called "Eureka Springs" from the album Eureka Springs which–what with the artist, song and album–approaches The-1975-levels of meta. In ...

Powerhouse Chicago-based three-piece Dehd announced both a run of late-summer dates (many of which are in support of electronic-folk band Sylvan Esso) and a fall tour of North America, which includes a stop at Jack Rabbits in San Marco on October 13. The post-punk trio's 2022 full-length album Blue Skies showcases the band's knack for reverb-drenched garage rock and harmonious ...
Reporters from public radio stations across the state bring you timely news and information from around Florida. Whether it's legislative maneuvers, the economy, environmental issues, tourism, business, or the arts, Capital Report provides information on issues that affect the lives of everyday Floridians.You can also subscribe to Capital Report as a podcast on Apple, Spotify, and Google.
On tonight's program: Voting rights advocates say they're feeling cautiously hopeful after a court hearing on Florida's congressional district maps. Opponents say the current maps violate the state constitution; Advocates want the state to take a break on removing people from its Medicaid rolls as thousands of recipients are losing health coverage because of confusion, not because they don't qualify; New rules are now in place for how parents can challenge books in classrooms and school libraries; After lawmakers passed a slate of laws this session that target the LGBTQ+ community, some families are leaving the state; Florida's new immigration law is putting added stress on students with undocumented family members; Officials say Florida hurricanes are getting wetter and are leading to greater concerns about the impact mold exposure can have on health; And Florida's controlled burn program helps prevent wildfires like the deadly fire that devastated Hawaii earlier this month.

On tonight's program: Florida public schools have staff shortages. But what that number is depends on who you ask; Could a lost Florida congressional district make a reappearance before next year's election?; College life is stressful. So more schools are putting resources in place to help troubled students cope and succeed; How do you tell the world about the outstanding academics at Florida's colleges and universities?; Florida's July unemployment rate is up just slightly from June; And inflation isn't only for consumer goods. The cost of money is going up, too.

On tonight's program: As the kids head back to Florida's classrooms, it seems there are a lot fewer teachers to welcome them; Some college and university student groups may have to change their names because of Florida's new rules against diversity, equity and inclusion; Women are struggling to access healthcare during and after pregnancy; Florida has a new requirement that hospitals check the citizenship status of patients. Supporters say it will reduce the burden on taxpayers for treating undocumented persons; A new hi-tech way to carjack is catching on in Florida; Governor DeSantis suspends another state attorney; And conditions are becoming unbearable inside Florida prisons that lack air conditioning.

On tonight's program: Florida has always been about real estate. Except now, there's a restriction on property sales to people from one specific country; Pushback against Florida's new African-American History guidelines is coming from teachers, some state lawmakers and even from the vice president of the United States; Florida's campaign against environment, social and governance when it comes to consumer products and investing may not be working out as intended by state policy makers; Super-heated sea water is bleaching the coral formations offshore of the Florida Keys; A proposed gas station atop Wakulla County's delicate underground spring system is drawing fierce opposition; Most folks think of algae blooms as a bad thing. But it appears they may also be very useful in certain situations; And we get a preview of a new book about the Sunshine State.

On tonight's program: You may have heard about a proposed constitutional amendment to protect abortion access, but there's also a proposal that would ban abortion in most cases; Pushback regarding Florida's new African American History standards hits a new crescendo; Faced with dwindling numbers, Florida Democrats are stepping up their efforts to stay politically relevant; It seems not every energy source claiming to be sustainable truly is; New immigration laws in Florida are persuading a growing number of immigrants to leave the state; And three-quarters of a century ago, the United States did away with segregation in the nation's armed forces and civilian federal workforce.

On tonight's program: Florida's new immigration law is being considered in federal court; Anti-discrimination advocates are pushing back against a new state law that bans many Chinese people from buying property in Florida...; A Florida researcher talks about what she found when she looked into the impact of fossil fuel energy companies on Florida utility policy; Soaring temperatures are proving deadly to children left in parked cars; We have an update on how new Florida laws are impacting the state's convention and meeting trade; A Sarasota attorney is the newly-elected president of the Florida Bar; And we go angling for a fish that hasn't exactly been the most popular among those who fish for sport.
Florida Frontiers: The Weekly Radio Magazine of the Florida Historical Society is a combination of interview segments and produced features covering history-based events, exhibitions, activities, places and people in Florida. Join host Ben Brotemarkle as he explores the relevance of Florida history to contemporary society, and promotes awareness of heritage and culture tourism options in the state.
SEGMENTS | Thomas Edison in Fort Myers | Father Theodore Gibson and the Miami NAACP | Clearwater Lawn Bowling Club

SEGMENTS | Journalist Mabel Norris Reese | The Lynching of Claude Neal | Advice Columnist Dorothy Ricker

SEGMENTS | Dispatches from Beluthahatchee | Hastings Public Library | Blacksmith John Pfund

SEGMENTS | Ax Handle Saturday | Diplomat Bert Fish | Patsy West and the Seminole

SEGMENTS | Florida Ties to the First Black Regiment in the Civil War | The Town of Fellsmere in Indian River County | An Early Automotive Road Trip

SEGMENTS | Artist Chad Light on A.I. | Historic Post Offices | Florida State Folklorist Dom Tartaglia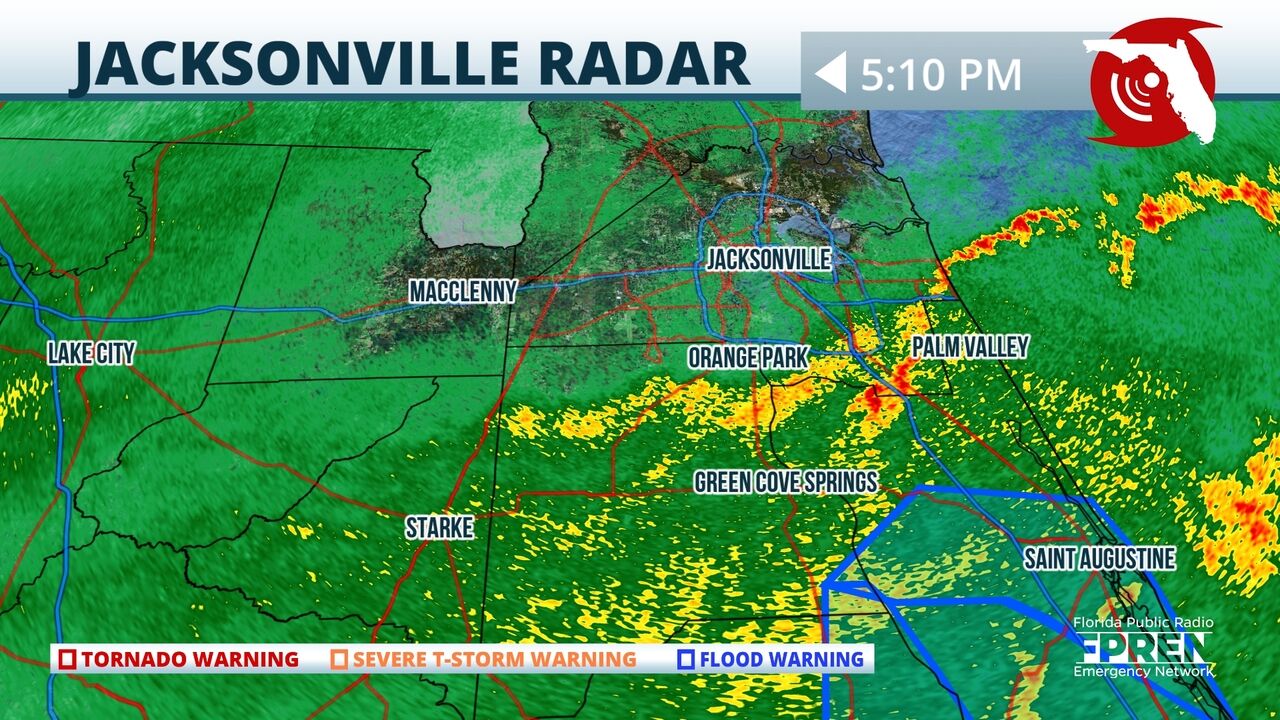 Discover Jacksonville like never before with
Jacksonville Today
, a nonprofit local digital journalism service from WJCT Public Media. With a daily five-minute read, stay updated on the city's top news, events, and engaging opinion pieces. Beyond news, it's your doorway to actively participate in the community. Get ready to experience Jacksonville, one email at a time.
NPR News is your go-to destination for reliable national news, delivering comprehensive reporting, thoughtful analysis, and engaging storytelling. With a commitment to accuracy and balanced coverage, NPR News keeps you informed about the latest national happenings, offering insights and perspectives that go beyond surface-level news.
NPR's Scott Simon speak with Rabbi Tamar Manasseh about her annual Yom Kippur service for victims of gun violence.

Florida's Brightline, the privately owned passenger train service, debuts its high-speed service Friday. Trains running between Miami and Orlando can reach speeds of 125 mph.

Immigration authorities arrested more families in August than in any month on record. U.S. officials have long grappled with discouraging families from coming — and found there are no easy solutions.

Idaho has more backcountry airstrips and wilderness pilots than any state other than Alaska. Many airstrips were incorporated into protected wilderness but now conservationists are challenging them.

The Butner federal prison complex in North Carolina is where a quarter of federal inmate deaths occur. It includes a medical facility but inmates aren't getting needed care, there or at other prisons.

The FBI said Friday it has opened a civil rights investigation into allegations in recent lawsuits that police in Baton Rouge, La., assaulted drug suspects they detained in the obscure warehouse.
Every weekday for over three decades, NPR's Morning Edition has taken listeners around the country and the world with two hours of multi-faceted stories and commentaries that inform challenge and occasionally amuse. Morning Edition is the most listened-to news radio program in the country.

Weekdays 5:00 a.m. to 9 a.m.
A federal indictment unsealed Friday accuses Menendez and his wife of engaging in "a corrupt relationship with three New Jersey associates and businessmen."

Sudan's army chief addressed the United Nations in an effort to burnish his image as statesman, while his rival posted his own attempted address online from Sudan.

Thousands of migrants crossing from Tunisia to the Italian island of Lampedusa are overwhelming the tiny island, and testing the welcome of those who live there.

NPR's A Martinez talks to GOP Rep. Tim Burchett of Tennessee, who is disgusted by right-wing members holding up the spending bill. Without a deal the government will shut down at the end of the month.

Volodymyr Zelenskyy says he is making an effort to answer any legitimate questions concerning his administration and its conduct during the war in Ukraine.

The fall equinox is when both hemispheres receive almost equal amount of daylight and darkness. In the Northern Hemisphere, the days grow shorter. The fall equinox arrives at 2:50 a.m. ET Saturday.
In-depth reporting has transformed the way listeners understand current events and view the world. Every weekday, hear two hours of breaking news mixed with compelling analysis, insightful commentaries, interviews, and special - sometimes quirky - features.
Weekdays 4:00 p.m. to 6 p.m.
Mayor Edilberto Molina relocated to a nearby town last year after drug-trafficking guerrillas threatened to kill him. He's not the only Colombian politician forced away by threats from criminal gangs.

Author Hannah Carlson takes us through the history of that most essential fashion hack, pockets.

Reporter John Otis catches up with one Colombian mayor who faces so many threats from criminal groups — that he's been forced to govern — largely from exile.

President Biden is unveiling a new White House office dedicated to gun violence prevention. It's something that activists have long pushed for.

Nearly 9,000 asylum-seekers have crossed recently from Mexico into the small West Texas border city of Eagle Pass, straining local, state and federal resources.

Sen. Bob Menendez, D-N.J., was indicted Friday on corruption charges in Manhattan, N.Y., following an investigation by federal prosecutors.
Marketplace, hosted by the charismatic Kai Ryssdal and produced by American Public Media (APM), is an influential and informative radio program that delivers a fresh perspective on the economy, business, and finance.
How much should a sandwich cost? How about a fast food drink? A gallon of gas? Turns out, behavioral economics shapes how much we think something should cost and explains why it's hard to adjust those prices for inflation. We also dissect Fed Chair Jerome Powell's Jackson Hole Symposium speech and hear why squashing the last bit of inflation is so tricky.

Nearly every business had to pivot during the pandemic. But domestic manufacturing has been weak for a while now. On today's show, we hear how businesses in the sector are looking to pivot yet again. Plus: the challenges faced by schools as pandemic funding ends, and the risks around chipmaker Nvidia's dominance of a very concentrated market. Later: Wordle, but make it global trade.

The theme of this year's Federal Reserve symposium in Jackson Hole, Wyoming, is "Structural Shifts in the Global Economy." Today, we ask a handful of economists who aren't sitting around the campfire with Jay Powell to weigh in. Then: Just half of CEOs see climate change as a threat to their business. And later: Could teaching more women poker narrow the boardroom gender gap?

Inflation is cooling and real wages are improving, which is good news. But after losing ground to rising prices for so long, low-income households are struggling to catch up financially, leaving them vulnerable to an economic slowdown. Plus, the U.S. dollar weakens as other countries hike interest rates, and the real estate refrain "you can always refinance" stages a comeback.

Wall Street is zooming in on Nvidia, which reports quarterly earnings this week. The chipmaker's components power many of the generative artificial intelligence models that have surged in popularity, and its financial results will provide clues about the strength of the industry that runs on its technology. Also on the show: diminishing appetite for U.S. bonds, life in a fire lookout tower and vanishing tattoo ink.